Susan Granger's review of "Boo! A Madea Halloween" (Lionsgate)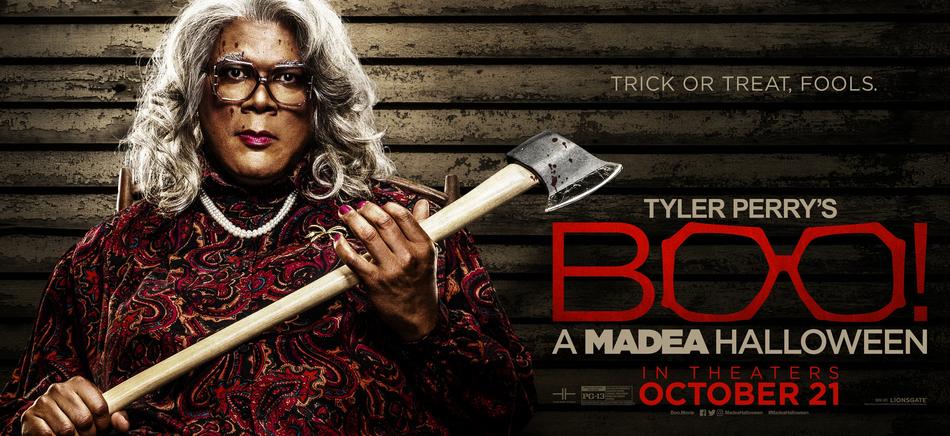 Multimillionaire filmmaker Tyler Perry gets points for timeliness on this holiday-themed comedy, released three years after 2013's "A Madea Christmas."
Once again, Perry plays the titular Mabel "Madea" Simmons, a wisecracking, cantankerous grandmother. Perry also plays Madea's brother/longtime foil, Uncle Joe, along with Brian Simmons, Madea's nephew/Joe's mild-mannered son.
The villains are sassy, disrespectful teenagers – typified by Brian's feisty 17 year-old daughter, Tiffany (Diamond Webb), who talks back to her father when he tells her that he has to work on Halloween so she should remain at home with relatives.
With Madea left in charge, Tiffany and her nervous pal Aday (Liza Koshy) concoct a story about how their house is haunted by a homicidal maniac named Mr. Wilson and the bedrooms are only safe places.
Hovering around are Betty Ann "Aunt Bam" Murphy (Cassie Davis), Madea's candy-stealing, medical marijuana-card toting cousin, and lusty, lisping Hattie Mae Love (Patrice Lovely), as a Simmons family friend.
After Tiffany and Aday sneak off to a forbidden party at Upsilon Theta fraternity, Madea realizes that they've stuffed pillows under their blankets to fool her. That unleashes frumpy Madea's wrath, not to mention her bodice.
Which arouses the ire of hard-partying pranksters behaving like zombies and demented clowns, furious that their merrymaking got shut down.
After several eerie, supernatural encounters, tough-talking Madea seeks shelter in a church, where she repents her sins, specifically being a "ho" and spending "time on the pole."
Writer/director/actor/producer Tyler Perry claims the Madea character is based on his own mother and aunt and says the idea for this project originated as a gag in Chris Rock's "Top Five" (2014).
It's the eighth in the low-budget Madea series and only the second that wasn't adapted from a stage play. In an obvious nod to the YouTube audience, Perry features several social media stars, including Tyga (as himself).
On the Granger Movie Gauge of 1 to 10, "Boo! A Madea Halloween" is a frightful 4, filled with vulgar slapstick and a mockery of child abuse disguised as "a good whuppin'."