Susan Granger's review of "I.T." (RLJ Entertainment/Fastnet Films)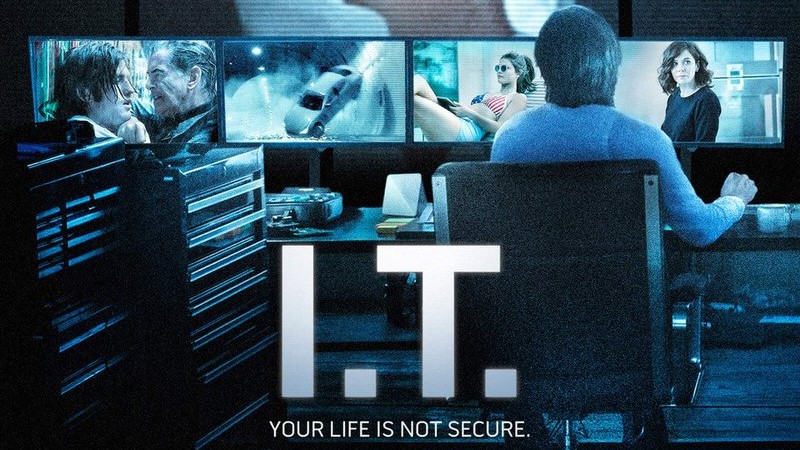 As an aerospace industrialist trying to save his company with Omni, a new Uber-like app that enables private jet owners to hire out and make more efficient use of their aircraft, Pierce Brosnan propels this trivial techno-thriller.
He's Mike Regan and, despite his sophistication and lofty perch in the business world, he's a technophobe who needs the help of his wife Rose (Anna Friel) just to operate the coffee maker in his kitchen.
So when a Power Point presentation to investors suddenly fails, his all-important Omni demonstration is saved by a nerdy IT temp, Ed Porter (James Frecheville).
Grateful, Mike suggests that Ed should come to his home to fix the Wi-Fi. The complicated surveillance systems with their omnipresent cameras in his ultra-modern "smart house" are awesome – yet awful when they go awry.
"I like my privacy," Mike explains, offering Ed a drink.
"Privacy's dead," Ed counters, adding, "Privacy isn't a right. It's a privilege."
While exploring the premises, Ed eyeballs Mike's pretty 17 year-old daughter Kaitlyn (Stefanie Scott), which proves to be an unwelcome intrusion, crossing the unspoken employer/employee social boundaries.
Not surprisingly, Ed's a creepy psychopath. His shady NSA background enables him to quickly acquire all the codes he needs to terrorize the gullible Regan family, particularly when he surreptitiously photographs Kaitlyn masturbating in the shower, sending the video viral.
"You're not the master of the universe, Mike," Ed sneers, sadistically menacing all Mike holds dear.
Scripted by Dan Kay and William Wisher and directed by John Moore ("Behind Enemy Lines"), the sinister cyber-stalker story is plodding and all too predictable.
On the Granger Movie Gauge of 1 to 10, "I.T." is a formulaic 4. It's best to disconnect.