Susan Granger's review of "Literally, Right Before Aaron" (Screen Media Films)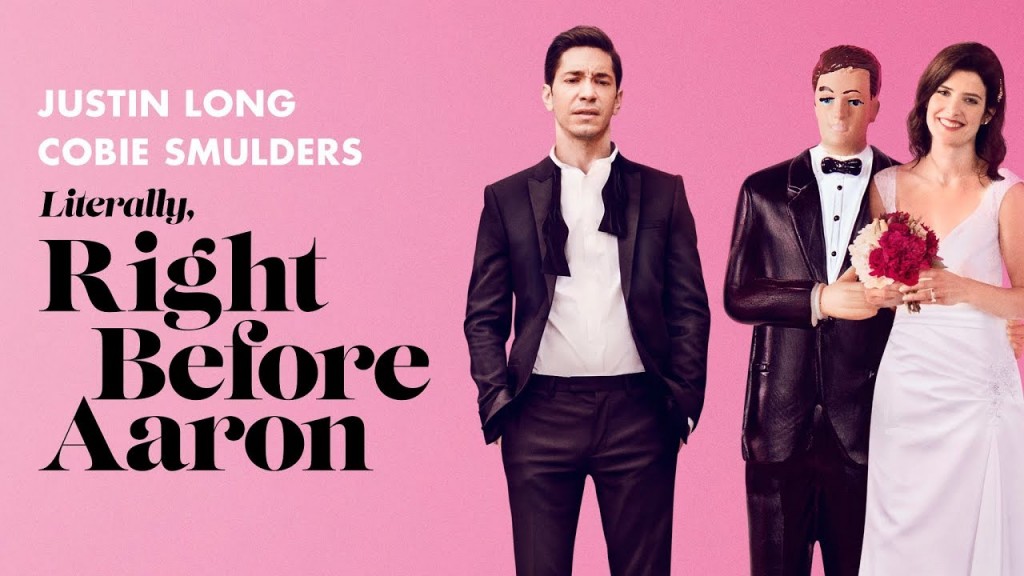 Writer/director/editor/composer Ryan Eggold relates the strange, agonizing story of lovelorn, thirtysomething Adam (Justin Long), who gets a call from his ex-girlfriend Allison (Cobie Smulders), telling him that she's getting married and inviting him to her upcoming wedding.
Against the advice of his best friend Mark (John Cho), hapless Adam decides to pack up his VW Beetle and drive back home to San Francisco to attend the nuptials, hoping to convince himself and everyone else, including her fiancé Aaron (Ryan Hansen), that he's truly happy for her.
As one embarrassment after another humiliates Adam, Mark echoes the viewer's sentiment by plaintively asking, "What are you thinking? Why are you doing this?"
Whiny Adam is an aspiring nature-documentary filmmaker who is being browbeaten by his employer, egocentric Orson Schwartzman (Peter Gallagher), host of TV's "Nature Calls…"
But he isn't able to embark on his future until he emotionally discards the idyllic concept of fairy-tale love that has kept him enmeshed with Allison, his college sweetheart.
And when other well-wishers ask why he's there, someone says, "Adam and Allison used to go out," and another adds, "Literally, right before Aaron." Hence the title.
According to Ryan Eggold's Director's Statement, this an "anti-romantic" comedy, relating an unconventional story, juxtaposing the incongruity between how we expect things to turn out and how they actually do.
Actor Justin Long duly embodies masochistic Adam, while Cobie Smulders (TVs "How I Met Your Mother") is enchanting as Allison. They're supported by a steadfast roster that includes Dana Delany, Luis Guzman, Kristen Schaal and Lea Thompson – experienced thespians whose considerable talents are wasted.
On the Granger Movie Gauge of 1 to 10, "Literally, Right After Aaron" is pathetic 4, revolving around a petulant jerk.