Susan Granger's review of "Stronger" (Lionsgate/Roadside Attractions)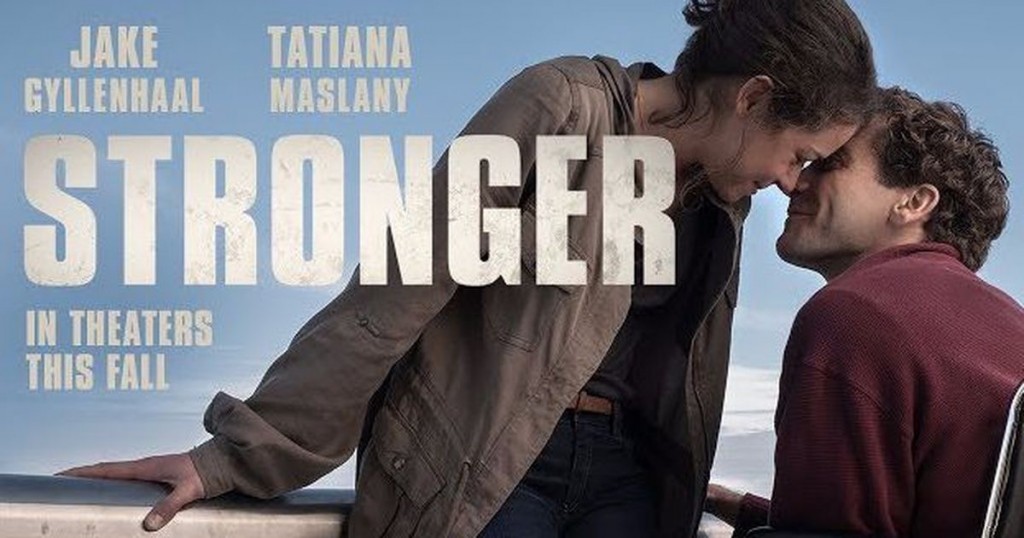 This is the inspiring, true story of 28 year-old Jeff Bauman (Jake Gyllenhaal), who lost both his legs in the infamous 2013 Boston Marathon bombings.
Hard-drinking Bauman, who worked in Costco's deli department, wasn't running that April day. He was a spectator, waiting at the finish line for his ex-girlfriend, Erin Hurley (Tatiana Maslany), a hospital administrator, who was running for charity. They'd broken up and he was hoping they'd get back together.
Unfortunately, he just happened to be standing right next to where one of the terrorists had planted a pressure-cooker bomb. It blew off both his legs at the knee. Both Bauman and his cowboy-hat wearing rescuer, Carlos Arredondo (Carlos Sanz), became the symbols of "Boston Strong," thrust into the spotlight by the media.
On hearing that her son was a double-amputee, Bauman's overprotective mother Patty (Miranda Richardson), with whom he still lived in Chelmsford, was devastated, turning to cigarettes and booze. Meanwhile, his father (Clancy Brown), uncle (Lenny Clarke) and the rest of his working-class family yell, curse and trade insults with one another.
Although Bauman vowed to do whatever it takes to walk again, during the ensuing months of agonizing rehabilitation, he was forced to deal with seemingly insurmountable mental and physical hurdles, many thrust on him because he'd become famous.
"I'm a hero for standing there and getting my legs blown off?"
At a Boston Bruins Stanley Cup game, when Erin pushes him out onto the ice in his wheelchair to wave the American flag, the ensuing noise and chaos give him a panic attack.
Based on the memoir by Jeff Bauman and Brett Witter, it's scripted by John Pollono and directed by David Gordon Green, who focus on relationships and, predictably, conclude with footage of the real Jeff and Erin.
Although Jake Gyllenhaal delivers a memorable performance, it's too bad that a disabled actor wasn't given the chance. Years ago, William Wyler cast Harold Russell, who lost his hands in a training accident during W.W.II, as a veteran in "The Best Years of Our Lives," and and he won a Best Supporting Actor Oscar.
FYI: This is the second film about the Boston Marathon bombings, following Peter Berg's "Patriots Day," focusing on the manhunt for the culprits.
On the Granger Movie Gauge of 1 to 10, "Stronger" is a steadfast 7, revealing the kind of faith it takes to survive this kind of ordeal.