Susan Granger's review of "Marshall" (Open Road Films/Starlight Media)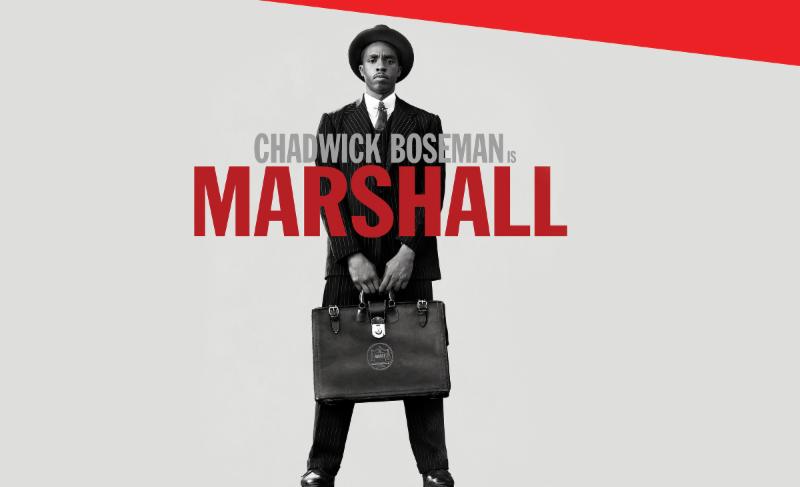 Conceived by 74 year-old Westport attorney Michael Koskoff and his screenwriter son Jacob, this courtroom drama, set in Fairfield County, focuses on a rape case in 1941, when Thurgood Marshall (Chadwick Boseman) was a crusading civil rights lawyer for the NAACP.
After a Greenwich socialite, Mrs. Eleanor Strubing (Kate Hudson), accuses her African-American chauffeur, Joseph Spell (Sterling K. Brown), of raping her and pushing her off a bridge, he's arrested, and frightened white people across the country began firing their domestic workers.
At age 32, Thurgood Marshall already had a formidable reputation, traveling around the South defending African-Americans in redneck towns, and he'd already argued before the Supreme Court.
Arriving in Bridgeport, Marshall quickly realizes that Spell's 'confession' was coerced. And it's obvious that Judge Colin Foster (James Cromwell) sides with prosecutor Loren Willis (Dan Stevens), ruling that, although Marshall may sit at the defense table as co-counsel, he can't speak in the courtroom because he's from out-of-state.
Instead, Spell's defense is articulated by Samuel Friedman (Josh Gad), a reluctant insurance attorney with no experience in criminal law. As the case proceeds, these two young lawyers – a black and a Jew – bond, enduring a huge amount of racism and antisemitism.
Like most docudramas, what really happened is visualized in accordance with conflicting testimonies.
Conventionally directed by Reginald Hudlin, it struggles to keep a consistent tone, particularly when Marshall visits Harlem's Minton's Playhouse, hanging out with Langston Hughes and Zora Neale Hurston.
But Hudlin elicits strong performances from Chadwick Boseman and Josh Gad.
Not long after, Thurgood Marshall won the famous 1954 Brown v. Board of Education case, which desegregated public schools; in 1967, he became the Supreme Court's first African-American judge.
FYI: Because of Connecticut's moratorium on filmmaking tax credits, it was not filmed locally. And actress Sybrina Fulton, mother of Trayvon Martin, who was killed by George Zimmerman, plays a bit part as a Mississippi mother.
On the Granger Movie Gauge of 1 to 10, "Marshall" is a historically significant 6, a biopic filled with cultural resonance.