Susan Granger's review of "The Foreigner" (STX Films)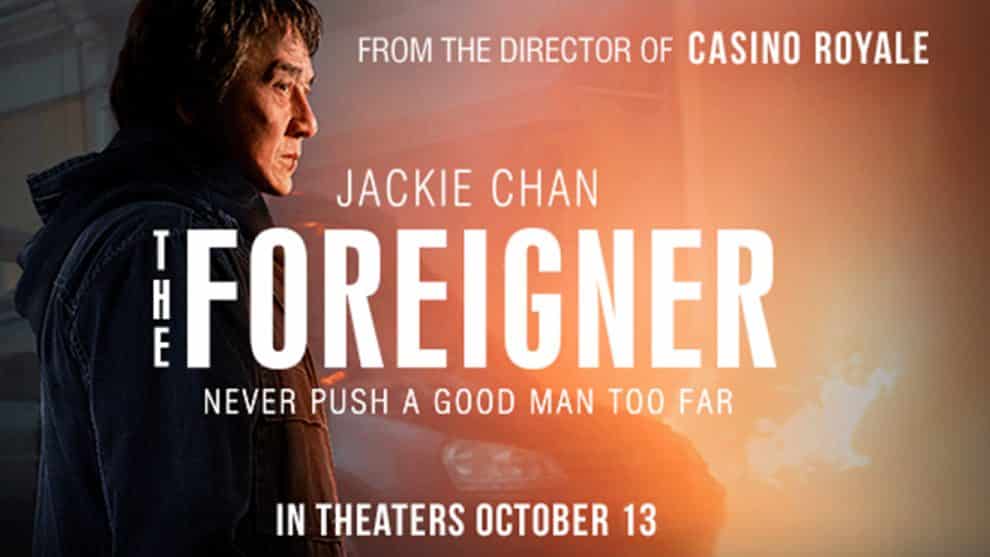 Last year, Jackie Chan was awarded an Honorary Oscar, perhaps heralding his transition from martial arts and comedic antics to a chance at serious acting in this Chinese-U.K. co-production.
London-based restauranteur Quan Ngoc Minh (Chan) is understandably grief-stricken when his teenage daughter Fan (Katie Leung) is killed in a Knightsbridge street bombing that's executed by a rogue sect calling themselves "authentic IRA" from Northern Ireland.
Distraught yet determined to wreak vengeance on her killers, he goes to Belfast, where he confronts Irish Deputy Minister Liam Hennessey (Pierce Brosnan), demanding to know who killed his daughter. When Hennessey refuses to give him the names of the culprits, Quan explodes his office bathroom with a device he created out of groceries and plants another bomb in his car, demanding "names."
Relentlessly pursuing former-terrorist-turned-politician Hennessey to his country home, Quan camps out in the woods, terrorizing the security guards. "I need more men," growls Hennessey, sending for his New York-based nephew Sean (Rory Fleck Byrne), an Iraq War veteran.
In the meantime, infuriated Hennessey is facing domestic complications, namely a clash between his conniving wife (Orla Brady) and his much-younger mistress (Charlie Murphy).
Since Vietnamese-born Quan is a retired special-ops agent, still-agile Chan delivers the requisite action/stunts, but Brosnan, utilizing a thick Irish brogue, simply steals the show.
Based on Stephen Leather's novel "The Chinaman," it's adapted by David Marconi, who updates the timeline to the present, although the IRA is no longer the constant threat that it was back in 1992 when the book was written, and aptly directed as a convoluted conspiracy thriller by Martin Campbell.
On the Granger Movie Gauge of 1 to 10, "The Foreigner" is a frantic, fast-paced 5, filled with violence particularly against women.