Susan Granger's review of "Goodbye Christopher Robin" (Fox Searchlight Pictures)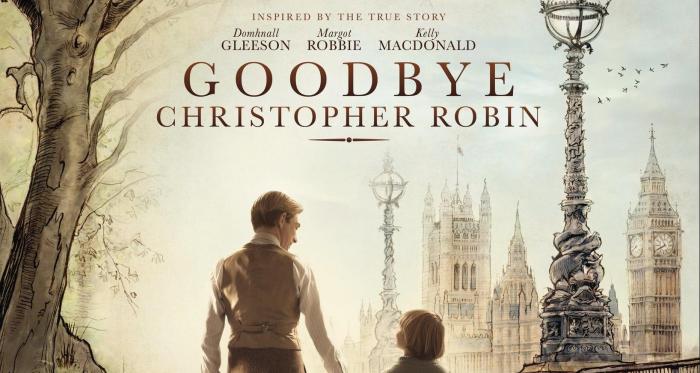 This is the intriguing 'backstory' about the creation of one of literature's most beloved children's tales.
Alan Alexander Milne (Domhnall Gleeson) was best known as a successful British playwright, churning out witty West End comedies. But, in 1919, after he returned from fighting on the Western Front during W.W.I, he was shell-shocked and depressed, suffering from what we now know as PTSD.
Impatient with her husband's inability to resume writing, Milne's self-centered, socialite wife, Daphne (Margot Robbie), reluctantly agrees to move to Sussex with him and their son, Christopher Robin (Will Tilston).
Morose Milne rarely spends time with the cherubic boy until Daphne takes off for London and Christopher's devoted nanny Olive (Kelly Macdonald) leaves to tend her dying mother.
Suddenly, Milne finds himself alone with Christopher, nicknamed Billy Moon. When they stroll through Ashdown Forest, Billy always brings his beloved bear; at home, he enjoys tea parties with his fanciful collection of other stuffed animals.
Observing this interaction, Milne begins writing whimsical, gently rhyming tales about the bucolic adventures of Christopher Robin, Winnie the Pooh, Eeyore, Tigger and Piglet in the mythical Hundred Acre Wood, collaborating with fellow veteran/illustrator Ernest H. Shepard (Stephen Campbell Moore).
The instant – and overwhelming – success of "Winnie-the-Pooh" transforms Christopher into a reluctant superstar, forced to do interviews, participate in photo ops and greet the adoring public.
Growing into manhood, Billy (Alex Lawther) becomes deeply resentful that his childhood was sacrificed for fame and fortune. In "The Enchanted Places, Beyond the World of Pooh" and "The Hollow on the Hill," he wrote: "It seemed to me almost that my father had got where he was by climbing on my infant shoulders, that he had filched from me my good name and left me nothing but empty fame."
Utilizing Ann Thwaite's 1990 biography of A.A. Milne, along with Christopher Milne's memoirs, screenwriters Frank Cottrell-Boyce and Simon Vaughn, working with director Simon Curtis ("Woman in Gold," "My Week With Marilyn"), have fashioned a rather contrived, somewhat uneven, cautionary tale for parents.
Curtis confesses a fascination with the downside of celebrity, which most people don't like to acknowledge: "It's about showing the unwelcome side of fame. What interests me is going behind the curtain of iconic stories to find the truth."
On the Granger Movie Gauge of 1 to 10, "Goodbye Christopher Robin" is a charming, bittersweet, yet stumbling 7. Who knew?