Susan Granger's review of "Three Billboards Outside Ebbing, Missouri" (Fox Searchlight)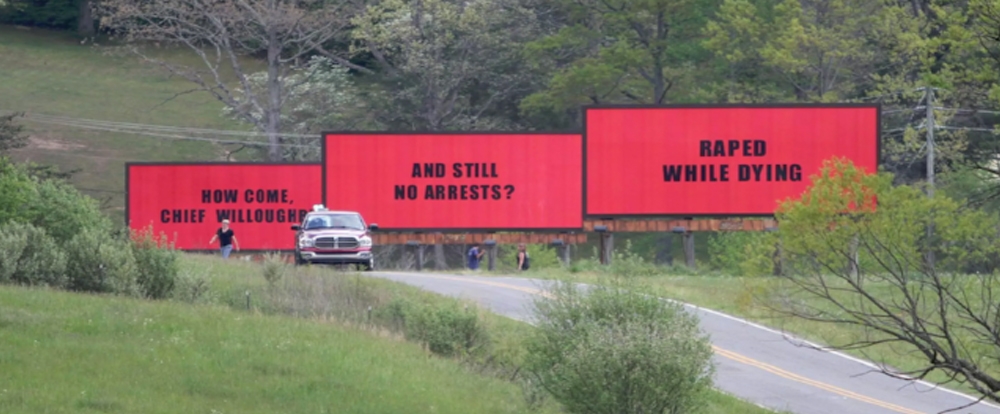 Writer/director Martin McDonaugh's darkly comic revenge drama revolves around grieving Mildred Hayes (Frances McDormand), whose teenage daughter was brutally raped and murdered several months ago.
Since the Ebbing Police Department has been unable to find the killer, Mildred rents three abandoned billboards on a back road to advertise their ineptitude and complacency, focusing on Sheriff William Willoughby (Woody Harrelson), who has been privately agonizing about not having solved the crime and is dying of pancreatic cancer.
Launching this outrageously merciless, one-woman crusade, Frances McDormand ("Fargo," "Olive Kitteridge") delivers a formidable, ferociously uncompromising performance that firmly places her on-track for another Academy Award. She's adroitly supported by Harrelson and Sam Rockwell, as his moronic, rage-filled deputy.
Plus there's Caleb Landry Jones as the local ad-sales agent, Peter Dinklage as the kindly car salesman who courts Mildred, Lucas Hedges as her long-suffering teenage son and John Hawkes as her abusive ex-husband.
Irish playwright-turned-filmmaker Martin McDonaugh ("The Beauty Queen of Leenane," "The Pillowman," "In Bruges") specializes in agonizing emotional pain, juggling comedy and tragedy, touching on racism and misogyny, peppered with irrational, uncontrolled violence and coarse, cruel pranks.
After winning the audience award at the Toronto Film Festival, McDonaugh noted the fortunate timing: "It's great to be putting out a film with such a strong woman lead character. Even just two months before anyone had seen it, I wasn't sure how it was going to be taken…We worried that the darkness in the story might not allow people to laugh."
Kudos also to British cinematographer Ben Davis, production designer Inbal Weinberg and composer Carter Burwell's distinctive musical score.
On the Granger Movie Gauge of 1 to 10, "Three Billboards Outside Ebbing, Missouri" is an edgy, unpredictable 8, a morbidly funny film.