Susan Granger's review of "The Man Who Invented Christmas" (Bleecker Street)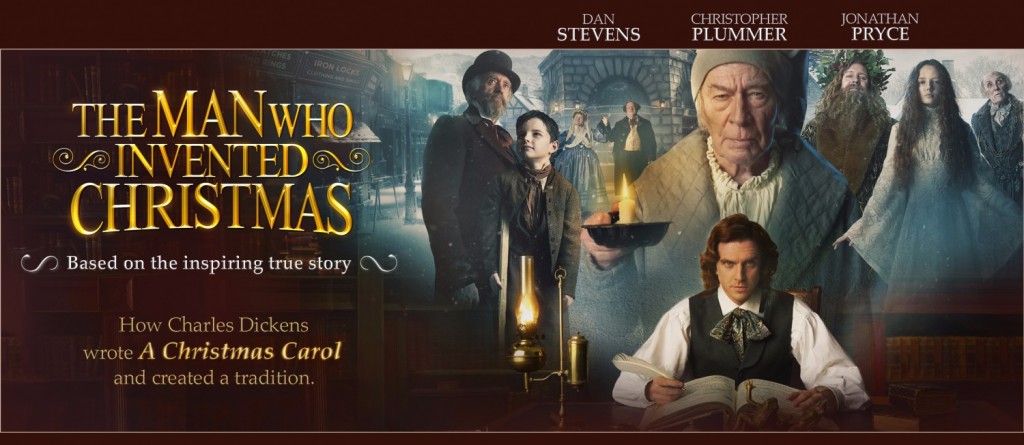 Have you ever wondered how Charles Dickens created "A Christmas Carol"?
Adapting Les Standiford's 2008 biography, screenwriter Susan Coyne and director Bharat Nalluri introduce self-absorbed Dickens (Dan Stevens) in 1842, as he relishes his triumphal speaking tour of the United States, where "Oliver Twist" is a tremendous success.
A year and three publishing 'flops' later, 31 year-old Dickens is back in Victorian-era London, wrestling with writer's block and insistent bill collectors. When he 'pitches' a Christmas book to his publishers, they scoff at the idea, informing him that it's a 'minor holiday,' not worth the effort and expense.
After conferring with his best friend/agent John Forster (Justin Edwards) at the famed Garrick Club, Dickens decides to publish the book himself – if only he can get the inspiration to finish it.
Then, suddenly, the vivid apparition of slyly crotchety Ebenezer Scrooge (Christopher Plummer) appears, along with Bob Cratchit and Tiny Tim.
"We know that Dickens did carry on conversations with his characters, so that's based on the true story, and we've invented his interior thoughts," explains Susan Coyne.
While all this is happening in Dickens' feverish imagination, he's forced to confront several real-life dilemmas, like his wife's pregnancy, adding to the four young children they already have. Plus, his genial, ne'er-do-well father, John (Jonathan Pryce) is once again leaning on him for loans.
The unexpected arrival of his estranged father ignites unwelcome recollections of Charles' impoverished childhood, when he worked in a boot-blacking factory where he was mercilessly bullied. And it soon becomes obvious that Dickens must come to terms with his inner demons before he can finish his holiday tale.
Fact and fantasy intertwine as the familiar fable unfolds. "A Christmas Carol" has never been out-of-print and is widely acknowledged as a major influence on Yuletide traditions, including family, friendship and charity.
On the Granger Movie Gauge of 1 to 10, "The Man Who Invented Christmas" is a whimsical 6, an endearing trifle.