Susan Granger's review of "Just Getting Started" (Broad Green Pictures)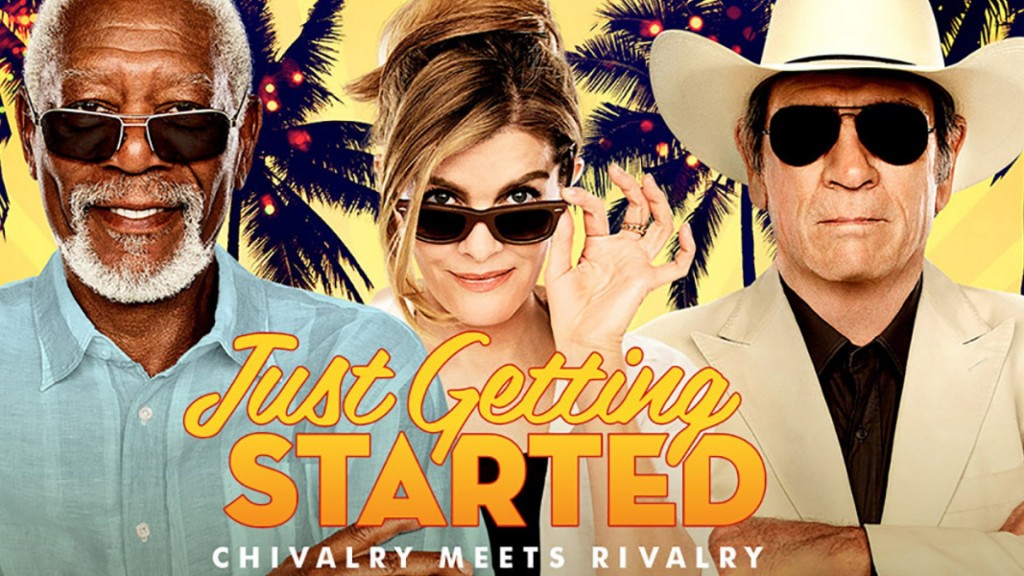 The problem with the senior-centric "Just Getting Started" is that it never really gets going!
Although septuagenarian writer/director Ron Shelton has churned out hits like "Bull Durham" and "Tin Cup," he stalled out with this tepid, wannabe Christmas comedy.
It begins as a Mob wife (Jane Seymour), under house arrest, spots a familiar face (Morgan Freeman) on a TV ad for Villa Capri, a luxury Palm Springs retirement resort. Seeking revenge, she dispatches her son to bump him off. Apparently, he was an F.B.I. informant who assumed the identity of 'Duke Driver' in the 'witness protection' program.
As the Villa Capri's charming manager, roguish Driver rules the roost, surrounded by hens (Glenne Headly, Elizabeth Ashley, Sheryl Lee Ralph) who are eager to share his nest when he's not poker partying with his pals (Joe Pantoliano, comedian George Wallace).
Shenanigans commence when prickly newcomer Leo McKay (Tommy Lee Jones) arrives, challenging Driver's supremacy on all fronts, while flirting with Suzie (Rene Russo), who was dispatched from corporate headquarters to audit the books and fire Driver.
As a native of Los Angeles, I relished Driver's equanimity regarding warm weather at Christmas: "Well, Bethlehem is exactly the same latitude as Southern California, so probably the original Christmas was more like Palm Springs." Which is actually true. Song-writer Irving Berlin and greeting card marketers are the ones who created snowy scenes for Christmas.
Garrulous Morgan Freeman and taciturn Tommy Lee Jones, who has a dry sense of humor, had never worked together before, and their chemistry clicks. Too bad they didn't have better material.
FYI: Although there are some Palm Springs background shots, filming took place at the Four Seasons Resort Rancho Encantado in Santa Fe, New Mexico – for tax reasons. And before taking lessons for this movie, Tommy Lee Jones had never played golf, noting: "I can hit the ball a long way, but I don't always know where it's going to come down."
On the Granger Movie Gauge of 1 to 10, "Just Getting Started" is an unfunny 5. It's seasonal sludge.