Susan Granger's review of "The Killing of a Sacred Deer" (A24)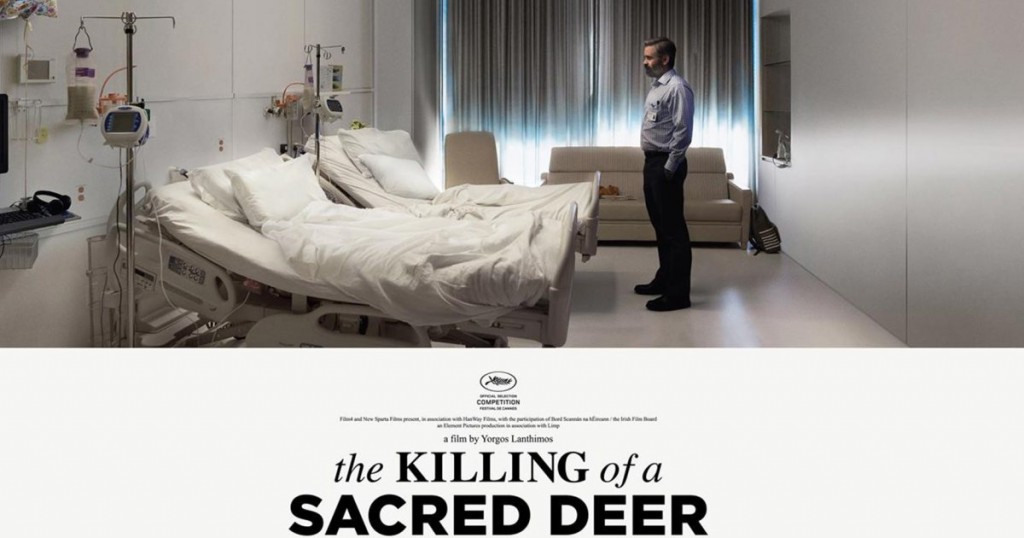 If you saw the dystopian thriller "The Lobster" (2015), you know that Greek writer/director Yogos Lanthimos makes ethically murky and profoundly disturbing films.
Set to Schubert's mournful "Stabat Mater," this ghastly tale of guilt and retribution begins with a close-up, clinical view of open-heart surgery, introducing wealthy, successful Dr. Steven Murphy (Colin Farrell).
Steven's married to Anna (Nicole Kidman), an ophthalmologist; they have a 14 year-old daughter Kim (Raffey Cassidy) and 12 year-old son Bob (Sunny Suljic).
But the primary object of Steven's attention is 16 year-old Martin (Barry Keoghan), the creepy son of a patient who died several years ago under his surgical care. It's obvious that only does Martin hold Steven responsible for the loss of his father but also that the doctor feels morally accountable.
They meet in secret, sharing lunch in a café and strolling by the river. But Martin then unexpectedly shows up at the hospital, forcing Steven to furtively introduce the lad to Matthew (Bill Camp), an anesthesiologist colleague, as Kim's school friend.
After Steven invites Martin to his suburban home for dinner, Martin politely reciprocates by trying to fix up Steven with his widowed mother (Alicia Silverstone).
Eventually, Martin informs Steven that each member of his family will soon suffer a mysterious paralysis, then death, forcing Steven into making a sinister choice, explaining: "It's the only thing I can think of that's close to justice."
Working from an austere script co-written with Efthymis Filippou, Yogos Lanthimos directs his actors to deliver their dialogue in a quietly mannered, even deadpan tone, which is most disconcerting, particularly coupled with Johnnie Burn's cacophonous sound track.
The title refers to Euripides' "Iphigenia in Aulis," which relates the Greek myth of young Iphigenia, who was offered as a sacrifice by her father, King Agamemnon, to placate Artemis after he accidentally killed the goddess's sacred deer.
On the Granger Movie Gauge of 1 to 10, "The Killing of a Sacred Deer" is a strange, insidiously sadistic 6, inevitably confounding its art-house audience.