Susan Granger's review of "The Post" (20th Century Fox/DreamWorks)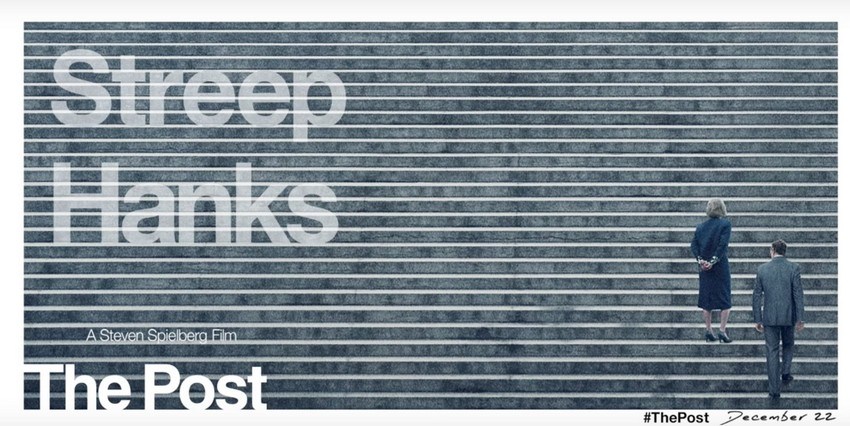 Steven Spielberg's thriller celebrates journalistic independence and courageous Katharine Graham, who put free speech ahead of friendship and business when she battled Richard Nixon's vindictive White House over publication of what became known as the Pentagon Papers.
When insecure Kay Graham (Meryl Streep) inherited stewardship of the Washington Post after her husband's suicide, she became the first female publisher of an American newspaper. Back then, the Post was just considered a regional publication.
In 1971, whistle-blower Daniel Ellsberg (Matthew Rhys), a Defense Department analyst, leaks Top Secret information to the New York Times, specifically a RAND Corporation study revealing a massive cover-up about the futility of a war in Vietnam.
Furious over being scooped, crusading Executive Editor Ben Bradlee (Tom Hanks) senses an opportunity to elevate the Post's national position when one of his reporters obtains a copy of the controversial study. But irascible Bradlee and his staff have only one day to sort out relevant information that the Times had for months.
Meanwhile, patrician Katharine Graham is preparing to take her family's cash-poor company public and she knows potential investors might bolt, citing a "catastrophic occurrence," since she could be arrested and imprisoned for treason.
In addition, Graham has personal reservations, tied to her longtime bond with Defense Secretary Robert McNamara (Bruce Greenwood), going back to when she and Bradlee socialized with John and Jacqueline Kennedy.
When the New York Times and Washington Post publish the Pentagon Papers, Nixon's aides seek a court injunction, causing a First Amendment battle that ends up in the Supreme Court.
Scripted by Liz Hannah and Josh Singer, it's sort of a prequel to "All the President's Men" – as Streep and Hanks deliver powerhouse performances, supported by Bob Odenkirk, David Cross, Tracy Letts, Michael Stuhlbarg, Sarah Paulson, Carrie Coons, and Bradley Whitford, among others.
On the Granger Movie Gauge of 1 to 10, "The Post" is a terrifically timely 10 – with an urgency that reminds us that an assault on freedom of the press is a clear and present threat to American Democracy.