Susan Granger's review of "Film Stars Don't Die in Liverpool" (Sony Pictures Classics)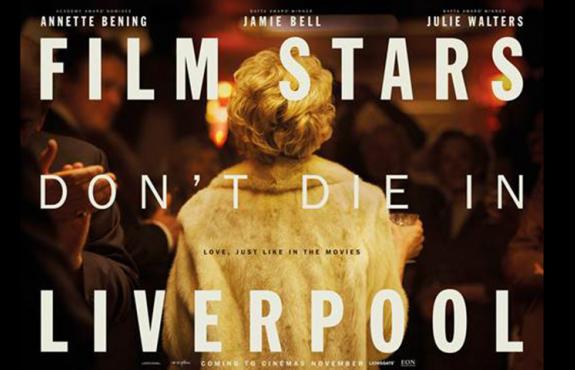 Annette Bening delivers a powerhouse performance as sultry Gloria Grahame. Yet to fully appreciate it, you should know a bit about who this enigmatic actress was.
Back in 1940s and '50s film noir, Grahame starred in "Crossfire," "Sudden Fear," "The Big Heat," "In a Lonely Place" and "The Bad and the Beautiful," for which she won a Best Supporting Actress Oscar. Fans also remember her from "It's a Wonderful Life," "The Greatest Show on Earth" and "Oklahoma!"
Obsessed with her appearance, Grahame underwent extensive plastic surgery, habitually fixing nonexistent flaws. Her volatile temperament alienated even the most admiring directors, and she courted scandalous gossip with four disastrous marriages – one to the son of an ex-husband.
The day after divorcing actor Stanley Clements, she married director Nicholas Ray. That ended disastrously after Ray found Gloria in bed with Tony, his 13 year-old son by a previous marriage. She then married and divorced producer Cy Howard before marrying her stepson, 23 year-old Tony Ray.
In 1979, Gloria was on-stage in England when she met Peter Turner (Jamie Bell), a British actor who was 28 years younger. Peter became besotted with her, and she spent the last days of her life at his family's home in Liverpool. Gloria Grahame died from recurring breast cancer in 1981 at age 57.
This is their love story. Just theirs – with only occasional flashbacks. Too bad there weren't more.
Inspired by Turner's memoir, adapted by Matt Greenhalgh and directed by Paul McGuigan, it was propelled into production by James Bond producer Barbara Broccoli, who has known Turner for more than 40 years.
Not only is Annette Bening riveting but Jamie Bell gets his first meaty role since "Billy Elliot." Their "Saturday Night Fever" disco seduction sequence is terrific. And they're given stalwart support from Julie Walters and Vanessa Redgrave.
If you're curious to know more about the real Gloria Grahame, I highly recommend Vincent Curcio's 1989 biography "Suicide Blonde."
On the Granger Movie Gauge of 1 to 10, "Film Stars Don't Die in Liverpool" is a subtly poignant 7, another Tinseltown tragedy.