Susan Granger's review of "The Greatest Showman" (20th Century Fox)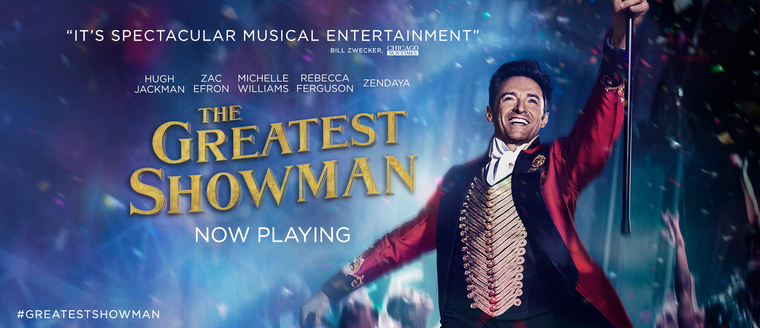 Hugh Jackman is sensational as the legendary huckster P.T. Barnum – but neither the script nor the music of this lackluster effort come close to Broadway's "Barnum" (1980), starring Jim Dale.
Born in 1810, Phineas Taylor Barnum's story begins with a quick glimpse of his poverty-riddled childhood and courtship of his beloved Charity (Michelle Williams).
When Barnum arrived in New York in 1834, he had a wife and two young daughters to support. After his bookkeeping job went bust, he cast around for something to do. Using money he didn't have, he bought a decrepit museum on Broadway and Ann Streets, filled with stuffed oddities, like the Feejee Mermaid, a monkey carcass stitched to a fishtail.
When that novelty wore off, one of his daughters urged him to fill the hall with "something alive." So Barnum hired 25"-tall Charles Stratton, who suffered from a pituitary deficiency, turning him into General Tom Thumb, and bearded Josephine Clofullia (Keala Settle), along with Chang and Eng, the original "Siamese Twins."
A brilliant impresario, Barnum noted, "Without promotion, something terrible happens – nothing!"
His menagerie became so famous they were invited to meet England's Queen Victoria at Buckingham Palace. While in Europe, Barnum became smitten with elegant soprano Jenny Lind (Rebecca Ferguson), "the Swedish nightingale."
After his Museum burned to the ground, irrepressible Barnum partnered with a wealthy New Yorker (Zac Efron), who embarked on a scandalous romance with a trapeze artist (Zendaya).
Barnum eventually joined James A. Bailey to found Barnum & Bailey Circus under the big tent – with its legendary elephant star, Jumbo.
Working from a superficial, loosely structured, simplistic screenplay by Bill Condon ("Dreamgirls," "Chicago") and Jenny Bicks ("Sex and the City"), it's frantically and flamboyantly directed by Michael Gracey, whose inexperience is obvious.
Except for "This Is Me," the soupy, forgettable songs are by Benj Pasek and Justin Paul, who won an Oscar ("La La Land") and a Tony ("Dear Evan Hanson").
On the Granger Movie Gauge of 1 to 10, "The Greatest Showman" is a starry-eyed 6. Showy, splashy and synthetic.