Susan Granger's review of "Hangman" (Lionsgate/Saban Films)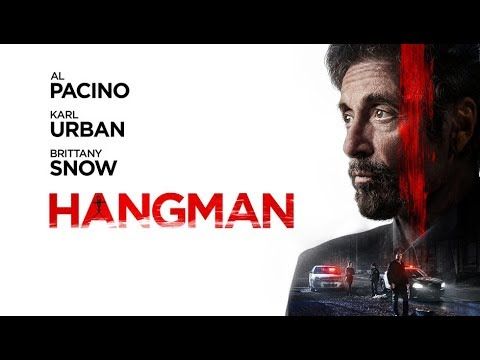 It's sad when iconic actors like Al Pacino ("The Godfather," "Serpico," "Sea of Love") stoop to meaningless whodunits like this exercise-in-futility, directed by stuntman-turned-actor Johnny Martin.
The prologue shows retired homicide detective Ray Archer (Pacino) sitting in his vintage car, doing crossword puzzles in Latin (because he was once an altar boy). Suddenly, he's sideswiped by a hit-and-run driver in a blue truck. After a high-speed chase, the culprit is caught.
Flash forward one year – and Ray becomes involved in a string of grisly, gruesome murder committed by a vicious serial killer who strings up his victims and, using their corpses, carves alphabet-letter clues via the titular children's word game.
Apparently, Ray's badge number and that of his stoic buddy Will Ruiney (Karl Urban), whose wife was murdered a while ago, were found whittled into a classroom desk in a school near the first victim's body.
Although the setting is Monroe, Georgia, joining them is intrepid New York Times investigative reporter Christi Davies (Brittany Snow), who was once nominated for a Pulitzer Prize, although her ride-along presence is obviously unwelcome.
The trio's sleuthing takes on added pressure when they realize that there will be a new victim every 24 hours, unless they can follow the clues and capture the psychopathic perpetrator.
Saddled with stereotypical characters and an illogical, inanely convoluted script by Michael Caissie, Phil Hawkins and Charles Huttinger, director Johnny Martin ("Vengeance: A Love Story") relies on fast-paced action scenes to propel past the idiotic banter that passes as dialogue and the police procedural plot.
On the Granger Movie Gauge of 1 to 10, "Hangman" is a forgettable 4 – a rotten riddle.