Susan Granger's review of "The Insult" (Cohen Media Group)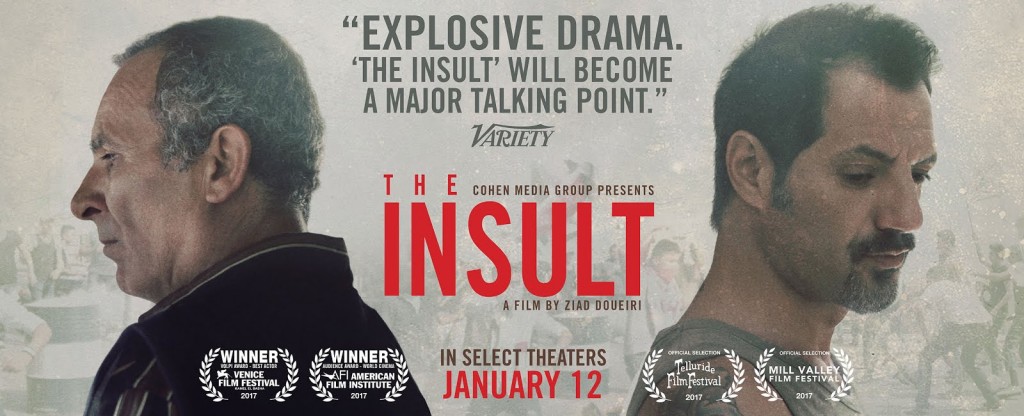 Ziad Doueiri's intriguing political drama is Lebanon's submission for the 2018 Academy Award for Best Foreign Language film and winner of the 2017 Venice Film Festival's Best Actor Award (Kamel El Basha).
In contemporary Beirut, there's always an undercurrent of tension between Lebanese Christians and Palestinian Muslim refugees. Which is why a casual insult is blown 'way out of proportion.
When Yasser (Kasmrel El Basha), a Palestinian construction foreman, attempts to repair a broken gutter on a balcony belonging to Tony Hanna (Adel Karam), a Lebanese Christian car mechanic who is watering his flowers, he's splashed with water.
Then, when Yasser offers to fix an illegal drainpipe, belligerent Tony slams the door in his face, upsetting his very pregnant wife (Rita Hayek). That leads to an insulting vulgarity and Tony's insistence on an abject apology, which Yasser initially refuses to do.
In reluctant placation, Yasser goes to the garage, just as Tony is listening to Bachir Gemayel's anti-Palestinian speech. Carried away by the hate-filled verbiage, Tony tells Yasser he wishes Ariel Sharon had "wiped them out," which incites Yasser to punch Tony, breaking a few of his ribs.
Their feud escalates exponentially until it spirals out of control, becoming a media circus. Eventually, the antagonists are embroiled in a legal showdown.
Tony's case is ruthlessly fronted by Wajdi Wehbe (Camille Salame), an experienced lawyer, while young Nadine (Diamand Bou Abboud) righteously mounts Yasser's defense.
As the drama unfolds, both sides are convincing since there's enough blame to go 'round.
In Lebanon, Christians comprise over 40% of the population; many of them bitterly resent the approx. 450,000 Palestinians who have sought refuge there, now comprising more than 10% of the country's residents.
Co-written by Joelle Tourma and director Ziad Doueiri, the story revolves around the notion of sincerity versus stability, as the underlying sectarian grievances are aired.
In Lebanese with English subtitles, on the Granger Movie Gauge of 1 to 10, "The Insult" is an explosive 8 – a tense courtroom thriller.