Susan Granger's review of "Peter Rabbit" (Columbia Pictures/Sony Animation)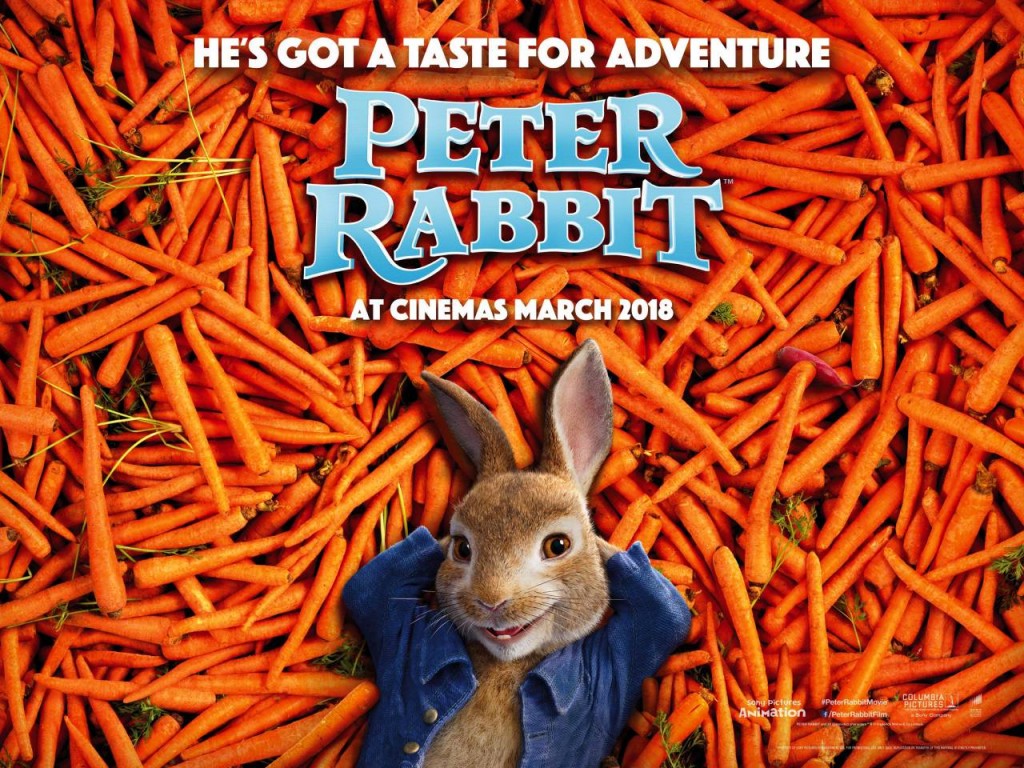 The gentle, whimsical tales of Beatrix Potter's beloved blue-jacketed bunny have been transformed into a 'hip' hybrid live-action/digital-animation adventure.
Mischievous Peter (voiced by James Cordon) habitually raids the vegetable patch that belongs to cranky Mr. McGregor (voiced by Sam Neill), accompanied by his neurotic cousin Benjamin Bunny (voiced by Colin Moody) and younger sisters Flopsy, Mopsy and Cottontail (voiced by Margot Robbie, Elizabeth Debicki, Daisy Ridley, respectively).
One day after chasing Peter, elderly Mr. McGregor suffers a fatal heart attack, bequeathing the bucolic property to his fussy, fastidious great-nephew, Thomas McGregor (Domhnall Gleeson), an ambitious executive, passed over for promotion at Harrods, who plans to sell the Lake District farm and invest in his own toy store in London.
"I've got nothing against the countryside," he says. "I just find it disgusting."
Upgrading vegetable-patch security means not only evicting Peter and his family but also Pigling Bland (voiced by Ewen Leslie) and the amiable hedgehog Mrs. Tiggy-Winkle (voiced by Sia).
But plans change after Thomas meets lovely Bea (Rose Byrne), an artistic neighbor who has maternally befriended the reckless, rebellious rabbits who have lived together – without parental supervision – in a nearby burrow since old Mr. McGregor baked their father into a pie.
Adapted by Rob Lieber, working with director Will Gluck ("Easy A," "Annie" remake), it's flippant and frantically paced, as the furry, photorealistic, anthromorphic critters bounce to pop tunes and enjoy gross-out humor.
It's a shame that their good intentions are thwarted by an unfortunate scene in which Peter and his friends deliberately pelt allergic McGregor with blackberries, mocking allergy-sufferers and trivializing food-induced anaphylaxis, a life-endangering condition.
After angry advocates and parents of children who suffer from similar food allergies urged a film boycott, Sony issued an apology about not being more aware and sensitive to this serious health issue.
On the Granger Movie Gauge of 1 to 10, "Peter Rabbit" scampers in with a strained 6, as the silly slapstick gags get a bit too sadistic.