Susan Granger's review of "Annihilation" (Paramount Pictures)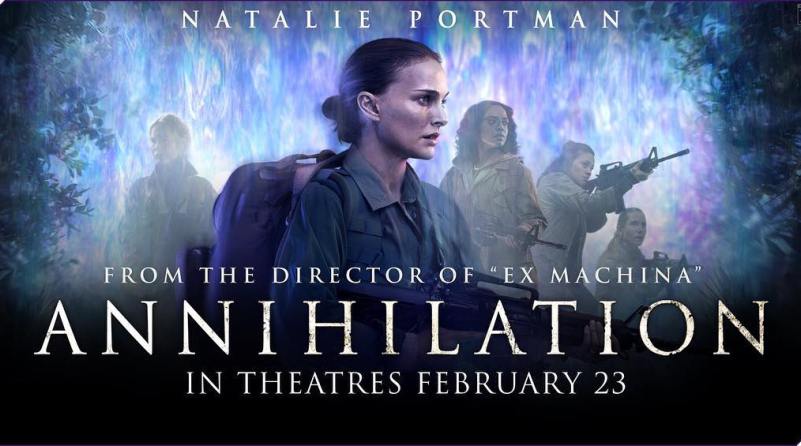 Following "Ex Machina," writer/director Alex Garland has concocted an ominous sci-fi thriller drenched with a pervasive sense of foreboding and dread.
It begins as a professor of cellular biology at Johns Hopkins School of Medicine, Lena (Natalie Portman), is interrogated by Lomax (Benedict Wong) in a hazmat suit. Displaying no emotion, she calmly explains how her military husband, Kane (Oscar Isaac), was dispatched on a secret mission and disappeared.
Almost a year passes before he returns, looking bizarrely catatonic and experiencing convulsions. When Lena summons an ambulance, she's mysteriously kidnapped along with her now-comatose, dying husband, who is placed in quarantine by federal authorities.
According to psychologist Dr. Ventress (Jennifer Jason Leigh), after a meteorite strike, the swampland around a lighthouse on the Florida coastline has been surrounded by a glistening, inexplicable force field called the Shimmer, which is rapidly expanding. Although other teams have been sent in, Kane is the only one who ever emerged.
Suspecting some kind of alien abduction/extra-terrestrial intervention, Lena, who has Army experience, joins an expedition of intrepid female scientists (Gina Rodriguez, Tessa Thompson, Tuva Novotny) who are determined to reach the symbolic lighthouse and find out what's really going on.
Equipped with assault weapons, they infiltrate the luminescent Shimmer, encountering a horrifying series of violent, mutated creatures, like a shark-toothed alligator and screaming bear. Needless to say, many of them do not survive.
Based on the first book on Jeff VanderMeer's best-selling "Southern Reach" trilogy, it's compelling, even if what passes for a complicated, metaphysical plot is often incoherent.
Working with production designer Mark Digby, cinematographer Rob Hardy, visual effects wizard Andrew Whitehurst, and utilizing Glenn Freemantle's soundscape, Alex Garland has created a weirdly cerebral dome, a confounding biosphere filled with bizarre vegetation, crystalline trees and iridescent, metallic clones.
On the Granger Movie Gauge of 1 to 10, "Annihilation" is a sinister, shimmering 6, challenging audiences with cosmic molecular science.