Susan Granger's review of "Every Day" (Orion Pictures)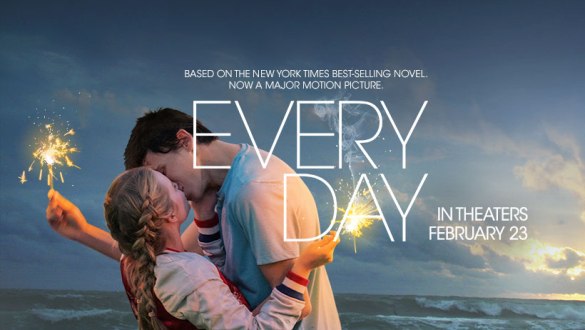 Based on David Levithan's YA best-seller, this angst-filled, adolescent fantasy revolves around someone who awakens every morning in a different body.
While the novel took place through the eyes of A, a sensitive soul who temporarily occupies the bodies of unsuspecting teenagers for a period of 24 hours, this dramedy shares the focus with 16 year-old Rhiannon (Angourie Rice) who is taken for granted by her cocky, chain-smoking boyfriend Nathan (Justin Smith).
One day, A awakens in Nathan's body. He immediately becomes the attentive beau Rhiannon always wanted, urging her to ditch school to spend a romantic afternoon with him, strolling on the beach, singing "This is the Day," and sharing their thoughts, hopes and dreams.
But the following day, Nathan is back to his callous, egocentric self, as A's consciousness moves into another body. Problem is: guileless Rhiannon has fallen in love with A's shape-shifting spirit, which continues to try to relate to her although it's encased in a different gender, skin color, etc. each time they hook up. 16, in all.
"Would you love me if I looked like somebody else?" A earnestly inquires because, "The day we met, I felt something I've never felt before."
Adapted by Jesse Andrews ("Me and Earl and the Dying Girl"), it's directed by Michael Sucsy ("Grey Gardens," "The Vow"), who, unfortunately, dilutes the relevant themes of sexual identity, ambiguous diversity and conventional labelling.
But the complex, supernatural premise remains intriguing, although it poses more questions than it answers. Like: How did this happen to disembodied A? Is a secret government agency involved? And why is actress Maria Bello wasted as Rhiannon's adulterous mother, cheating on her dysfunctional father (Michael Cram)?
On the Granger Movie Gauge of 1 to 10, "Every Day" is a strange, bittersweet 6, examining the poignant limits of possibility.