Susan Granger's review of "Death of Stalin" (IFC Films)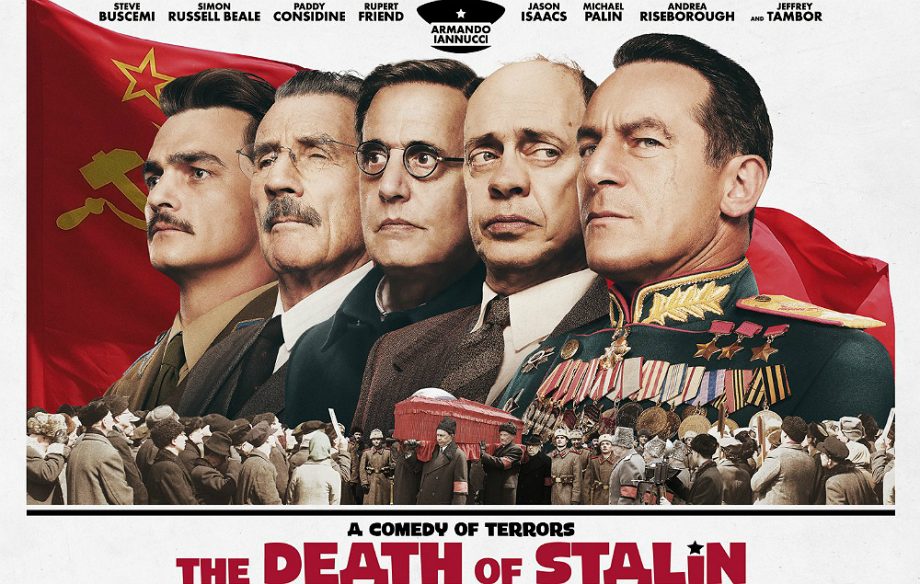 Humorist Steve Allen once said, "Comedy equals tragedy plus time." He later amended that with, "Tragedy plus time plus the will to be amused equals comedy. If you don't have the will to laugh, you won't be amused – whether it's by a Chaplin or anyone like him."
Perhaps that's my problem with Armando Iannucci's banal attempt to find caustic, slapstick comicality in the amoral ineptitude of high-ranking, ruthless, murderous merchants of torture and death, portrayed here as Keystone Kops.
On March 2, 1953, the Soviet Union's dictator Joseph Stalin (Adrian McLoughlin) suffered a cerebral hemorrhage after ordering a recording of a Mozart concerto he'd heard on the radio from the broadcast's panicked director (Paddy Considine), who must reassemble the orchestra and piano soloist (Olga Kurylenko), with a replacement conductor, to fulfill the tyrant's request.
Admittedly, this first, frantic sequence – "a musical emergency" – is amusing.
Then, viewing Stalin's comatose body in a puddle of urine, his sycophantic colleagues on the Central Committee gather to discuss what comes next. They cannot summon a physician, since all the good doctors have been sent to Siberia.
Obviously, Nikita Khrushchev (Steve Buscemi), Georgy Malenkov (Jeffrey Tambor), Lavrentiy Beria (Simon Russell Beale), Georgy Zhukov (Jason Isaacs) and Vyacheslav Molotov (Michael Palin) are vying for control.
As Stalin's body is laid out for public inspection, there are complications with his neurotic daughter, Svetlana (Andrea Riseborough), and alcoholic son Vasily (Rupert Friend), depicted as preening and petty.
After seemingly endless incompetency and jockeying for power, arrogant Nikita Khrushchev emerges as the USSR's new leader. Then, when Khrushchev attends a concert, he's unaware that Leonid Brezhnev (Gerald Lepowski), seated behind him, is secretly plotting his downfall.
Based on a graphic novel by Fabien Nury and Thierry Robin, it's adapted by David Schneider, Ian Martin and Scottish-born director Iannucci (HBO's "Veep," "In the Loop"), who assembles a star-studded cast to do his manic, motor-mouth bidding.
On the Granger Movie Gauge of 1 to 10, "The Death of Stalin" is a savagely satirical 6 – but it's not very funny.