Susan Granger's review of "Storks" (Warner Bros. Animation Group)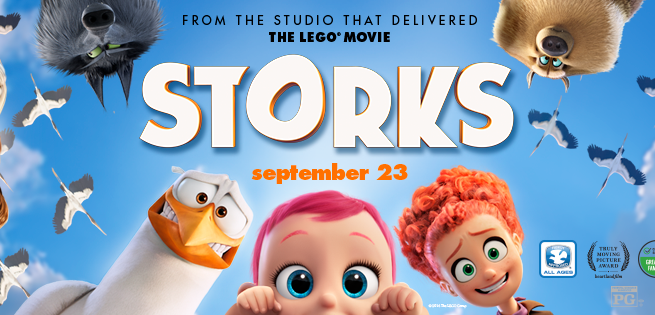 For many years, when children asked where babies came from, parents answered: "The stork delivered them."
But times change and, as the bundle-of-joy business became less profitable, hard-working storks began delivering packages from Cornerstone.com, an Amazon-like on-line retailer.
Plus, there was a hushed-up scandal about Jasper (voiced by Danny Trejo), a stork who, long ago, became so attached to a baby girl he was supposed to transport that he kept her for himself.
That's why now-18 year-old Tulip (voiced by Katie Crown) grew up as the only human on Stork Mountain. Over the years, while yearning to find her intended family, she's become Cornerstone's clumsiest, most accident-prone employee.
The boss, Hunter (voiced by Kelsey Grammer), wants to get rid of her before he retires, dispatching amiable, ambitious Junior (voiced by Andy Samberg) to do it.
Meanwhile, down in suburbia, lonely Nate Gardner (voiced by Anton Starkman) yearns for companionship since his parents (voiced by Jennifer Aniston, Ty Burrell) are work-obsessed realtors. So he writes a letter to the baby-makers on Stork Mountain, begging for a baby brother who has ninja skills.
When Tulip gets his letter, she inadvertently re-activates the assembly line of the long-dormant infant factory, resulting in an adorably diapered dumpling, which she and Junior are determined to deliver.
The encounter plenty of obstacles, including Hunter's tattling henchman, Pidgeon Toady (voiced by Stephen Kramer Glickman), and a ravenous pack of shape-shifting wolves, led by Alpha (voiced by Keegan-Michael Key) and Beta (voiced by Jordan Peele).
Scripted by Nicholas Stoller ("Neighbors," "Forgetting Sarah Marshall") and directed by Stoller and Pixar animator Doug Sweetland, it's really a perceptive commentary on the changing aspects of family, emphasizing the wryly comedic aspects of parenting. Much of which goes over the heads of a kiddie audience.
While the animation by Sony Pictures Imageworks is vivid, particularly the big-eyed babies, it's not particularly inspired or inventive.
On the Granger Movie Gauge of 1 to 10, "Storks" is a funny, frenetically-paced 5, stressing nurturing and compassion.