Susan Granger's review of "Patriots Day" (CBS Films/Lionsgate)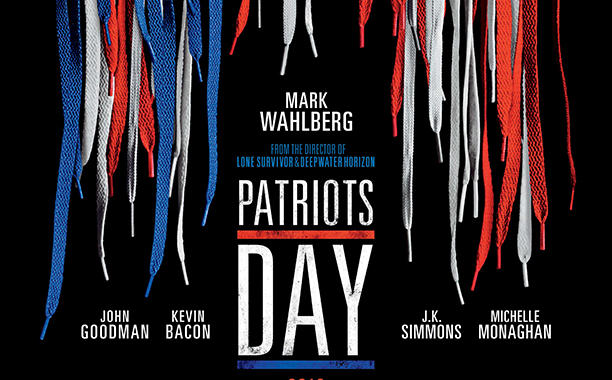 Chronicling the 2013 Boston Marathon bombing and its intense aftermath, this is a heavy-handed, by-the-numbers action-thriller about how a community responded to an act of terror.
Assigned to duty on the finish line, feisty Police Sgt. Jimmy Saunders (Mark Wahlberg) has a sore knee so he phones his wife (Michelle Monaghan) to bring him his knee brace.
Meanwhile, two Muslim rebels, Tamerlan (Themo Melikidze) and Dzhokhar (Alex Wolff) Tsarnaev, are calmly making nail-filled bombs and loading them into their backpacks.
When the explosions occur, there's graphic carnage and predictable pandemonium, as first responders rush to help, inadvertently separating families by dispatching victims to different hospitals.
Inevitably, Boston Police Commissioner Ed Davis (John Goodman) clashes with the FBI's Richard DesLauriers (Kevin Bacon) during the methodical four-day investigation and ensuing manhunt, particularly about when to release the terrorists' photos to the media.
Jimmy Saunders seems to be everywhere; he's obviously a composite character, superficially incorporating the heroism of several different Boston cops.
The most interesting participant is Dun Mengh (Jimmy O. Yang), the young Chinese immigrant who was carjacked by the Chechen brothers. Escaping from their clutches, he called 911, revealing the terrorists' intention to take more bombs to New York and directing them to the shootout in Watertown.
Mark Wahlberg and director Peter Berg have previously collaborated on the far better "Deepwater Horizon" (2016) about the deadly oil explosion in the Gulf and "Lone Survivor" (2013) relating a Navy SEAL mission gone wrong. So they know the docudrama drill.
Raised as the youngest of nine children in the Dorchester neighborhood of Boston, Wahlberg has strong Boston roots, filming "The Departed," "The Fighter" and his "Ted" comedies there.
The film concludes with a shot of real-life survivor Patrick Downes, the first amputee to compete again in the Marathon, falling into the arms of his wife, who lost both legs in the bombings.
On the Granger Movie Gauge of 1 to 10, "Patriots Day" is a simplistically sober 6, concluding that tragedy can bring out the best in everyone.