Susan Granger's review of "Live By Night" (Warner Bros.)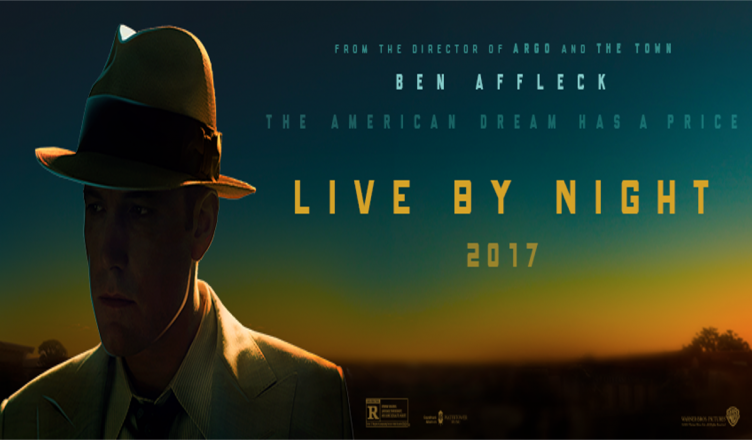 As a director – with "Gone Baby Gone," "The Town" and "Argo" to his credit – Ben Affleck is besotted by atmospheric authenticity, particularly in his hometown of Boston.
After fighting the Huns in France in W.W.I, disillusioned Joe Coughlin (Affleck) returns home to Prohibition-era Boston, vowing never to take orders from anyone again. Resisting all authority, he becomes a thief and an outlaw.
Unfortunately, he falls in love with Emma (Sienna Miller), the sassy, selfish mistress of Irish gangster Albert White (Robert Glenister).
Badly beaten and believing that Emma is dead, Joe allies himself with Maso Pescatore (Remo Girone), boss of the rival Italian Mafia, much to the chagrin of his law-abiding dad (Brendan Gleeson), a bigwig with the Boston police, who warns, "What you put out into the world will always come back to haunt you, but never how you predict."
When Pescatore sends him to Tampa to run Florida's rum-smuggling racket, Joe marries sultry Graciela Suarez (Zoe Saldana), a black Cuban emigre, making him a target of the Ku Klux Klan leader (Matthew Maher), brother-in-law of the pious, pragmatic sheriff (Chris Cooper).
Meanwhile, the sheriff's aspiring starlet daughter (Elle Fanning) takes off for an ill-fated trip to Hollywood, eventually becoming a Bible-thumping evangelist who opposes Joe's plans to open a casino.
Adapting Dennis Lehane's pulpy 2012 crime novel, Affleck drowns in melodramatic subplots and extraneous characters, consistently choosing clichéd style-over-substance.
Sumptuously photographed by Robert Richardson, it's dazzling at times – yet self-defeating. Like when Joe emerges from a particularly brutal bloodbath without a spot on his cream-colored linen suit and matching fedora.
Jess Conchor's detailed production design and Jacqueline West's glamorous costumes are often more riveting than the chaotic action.
In addition, Affleck's not adept at casting. As the romanticized gangster anti-hero, he's torn between decency and deception – and that contradictory uncertainty dilutes his already-stiff, stone-faced performance.
On the Granger Movie Gauge of 1 to 10, "Live By Night" is a fumbling, unfocused 4. It's fatally flawed.