Susan Granger's review of "The Comedian" (Sony Pictures Classics)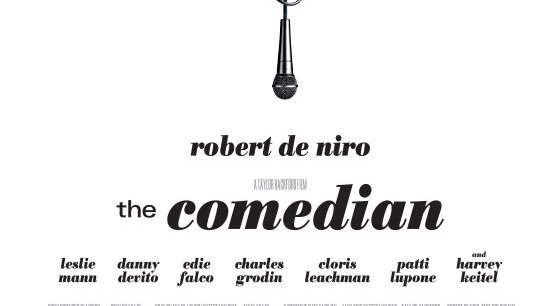 Back in 1983, Robert De Niro played a sociopathic wannabe celebrity in Martin Scorsese's "The King of Comedy," starring Jerry Lewis.  Obviously, the delusional character intrigued De Niro because in "The Comedian," he's a former TV sit-com star, Jackie Burke.
Aging Burke has hit hard times, unable to move beyond nostalgic references to "Eddie's Home." One night when an obnoxious heckler with a web-cam taunts him at a comedy club in Hicksville, Long Island, he clobbers the guy in a scuffle that winds up on YouTube.
After spending 30 days in the slammer, Jackie reports for community service at a homeless shelter, where he meets Harmony (Leslie Mann), who is also atoning for an angry outburst.
Despite their obvious age difference, they connect. He takes her to the Comedy Cellar and his lesbian niece's wedding; she takes him to a birthday dinner for her domineering father (Harvey Keitel).
Cobbled together by a disparate quartet of screenwriters (Art Linson, Jeff Ross, Richard LaGravenese, Lewis Friedman) and superficially directed by Taylor Hackford, it's filled with strained insult comedy, a Friars Club Roast of a legendary comedienne (Cloris Leachman) and a sleazy game show, reminiscent of "Fear Factor."
FYI: Comedian Harry Einstein, father of actor Albert Brooks, really died on the Friars Club dais in 1958. "That excited me," recalls De Niro. "One scene – and you want to do the whole movie."
De Niro captures Jackie's bitter, simmering resentment, while Leslie Mann wrestles with Harmony's demons. Edie Falco is Jackie's frustrated manager, while Danny De Vito and Patti LuPone play his long-suffering brother and resentful sister-in-law.
After doing "Mean Streets" and "Taxi Driver" together, De Niro and Harvey Keitel click, along with cameos by Charles Grodin, Billy Crystal, Brett Butler, Richard Belzer, Gilbert Gottfried, Jim Norton, Jessica Kirson and Hannibal Buress.
But the brash script turns sour when there's an unexpected twist and Jackie forces residents in a Florida retirement home to sing along as he changes "Makin' Whoopee" into the scatological "Makin' Poopy." Shades of De Niro's "Dirty Grandpa" debacle.
On the Granger Movie Gauge of 1 to 10, "The Comedian" is a flimsy, faltering 5 – and definitely not funny.