Susan Granger's review of "Everlasting" (Super Grande Films/Indie Rights)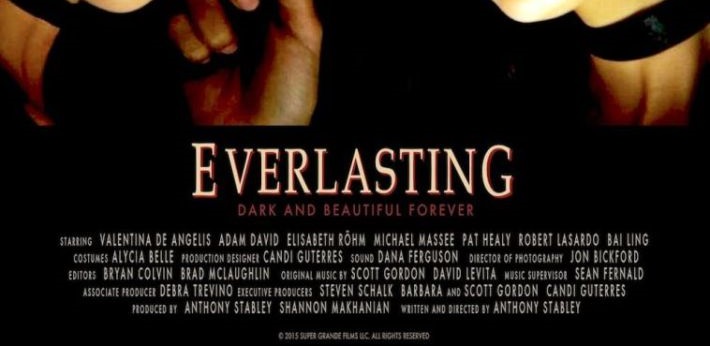 Writer/director Anthony Stabley has devised a different twist on the traditional horror film, combining his ominous concept with a murder mystery.
"Darkness can take over your life, even when you think you have everything under control," notes Matt Ortega (Adam David), a high-school filmmaker who receives a mysterious package containing a DV tape depicting the torture and murder of his girlfriend Jessie (Valentina de Angelis).
Grief-stricken Matt then compiles his own cinematic memorial to the spirit of admittedly irresponsible, thrill-seeking Jessie, recounting the time they spent together – in preparation for a confrontation with the killer who dumped her body on the roadside in Topanga Canyon.
Eager to flee from her fractured, dysfunctional family in Colorado, Jessie responded to an ad that entices attractive young women to come to Los Angeles to embark on a modeling career.
After trying to dissuade her, Matt reluctantly offered to drive Jessie, cinematically documenting their scenic stops along the way.
"It's easier to leave the people you love before they leave you," she tells him.
Upon arrival at their destination, Matt and Jessie discover that her road to Tinseltown success will be littered with squalid intrigue and sordid encounters involving fetishes and bondage. Indeed, the first person they encounter at a Hollywood party is Guinevere Turner, who scripted "American Psycho."
While Anthony Stabley adroitly establishes the emotional authenticity of their romantic relationship, Matt and Jessie, nevertheless, seem ill-suited to one another.
Matt exudes a sweet naïveté, rooted in emotional stability, while Jessie's vulnerable volatility not only includes a preference for tight chokers because she likes the pressure on her neck but also a penchant for sado-masochistic sex.
Veteran thespians Elisabeth Rohm ("American Hustle"), Pat Healy ("Compliance") and Michael Massee ("Se7en") are memorable, while Jon Bickford's cinematography is compelling.
FYI: Making its U.S. premiere at the 17th annual Nevermore Film Festival, "Everlasting" copped the Jury Award for Best Feature.
On the Granger Movie Gauge of 1 to 10, "Everlasting" is a suspenseful, subversive 6, revealing the seedy underbelly of "La La Land."