Susan Granger's review of "A United Kingdom" (Fox Searchlight Pictures)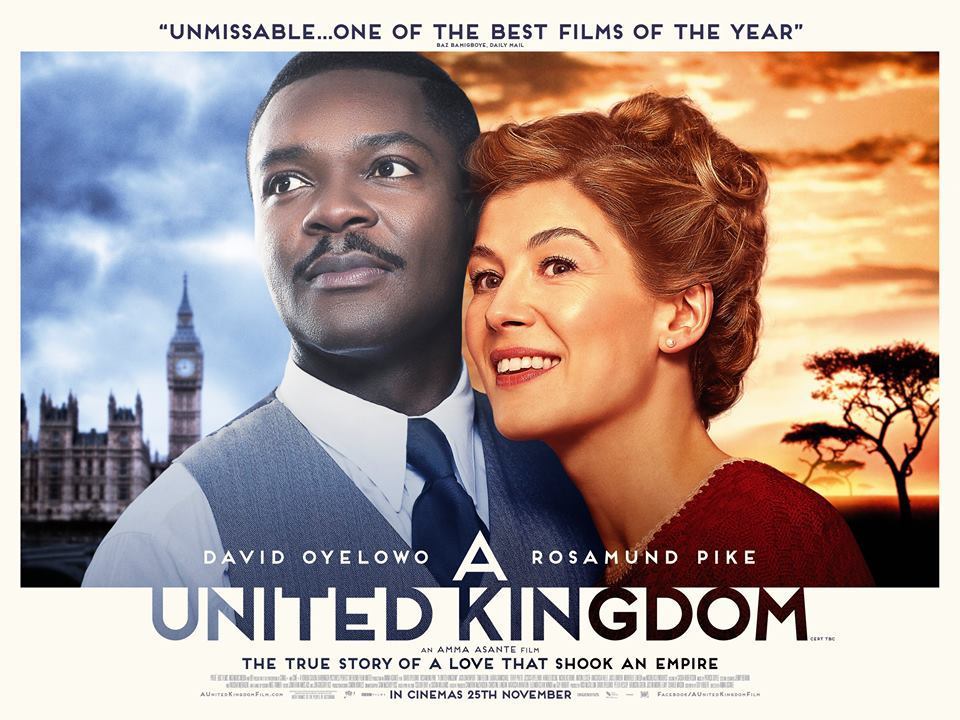 In London in 1947, the future King of Botswana, Prince Seretse Khama (David Oyelowo), who was studying law at Oxford, met a beautiful Englishwoman, Ruth Williams (Rosamund Pike), at a Mission Society dance and, soon after, they impulsively married.
That's just the beginning of this intriguing true story. Original opposition to their union came not only from Ruth's racist father (Nicholas Lyndhurst) but also from the British government. Britain's South Africa regime had recently introduced the policy of apartheid, so a biracial couple ruling a neighboring country seemed out of the question.
Economically, Britain needed access to resource-rich South Africa's uranium for their nuclear program and gold-mining rights, which were vital to replenishing the depleted reserves following W.W.II.  Plus there was a strategic threat of South Africa's invading Bechuanaland (later known as Botswana).
So their scandalous union precipitated an international crisis, which was further complicated by Seretse Khama's obstinate uncle/guardian, Tshekedi Khama (Vusi Kunene). Acting as Regent, he has repeatedly urged his people to cooperate with the traditional colonial government.
In addition, Seretse's aunt (Abena Ayivor) and sister (Terry Pheto) believe his marriage to a white woman demeans the black women of their Bamangwato tribe.
But when dignified, defiant and ultimately persuasive Seretse Khama arrives back in his African homeland with resilient Ruth – that changes everything – along with the discovery of diamonds.
Based on Susan William's historical book "Colour Bar," it's simplistically adapted by Guy Hibbert and sensitively directed by Ghana's Amma Asante ("Belle"), who astutely utilizes her superb ensemble, headed by David Oyelowo ("Selma") and Rosamund Pike ("Gone Girl") – with Jack Davenport and Tom Felton as the intimidating, bureaucratic villains.
Sam McCurdy's stunning cinematography captures the flat, sunbaked landscape of Botswana, which recently celebrated its 50th anniversary of independence, but the editing is erratic.
On the Granger Movie Gauge of 1 to 10, "A United Kingdom" is a compassionate, if shallow 6, an inspiring geopolitical biopic.