Susan Granger's review of "A Cure for Wellness" (20th Century-Fox)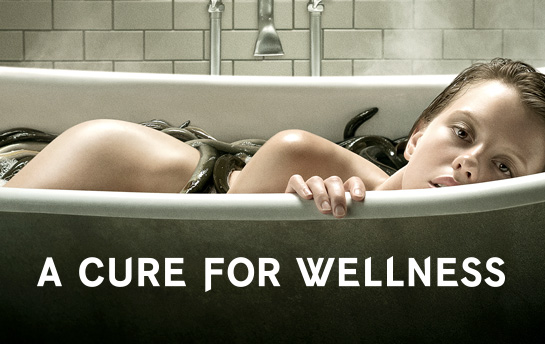 When a young, ambitious Wall Street investment banker is dispatched to Switzerland to retrieve his company's CEO from a mysterious, idyllic spa, encased in an Alpine castle, he discovers that the concept of "wellness" is open to macabre interpretation.
Upon his arrival, Lockhart (Dane DeHaan) observes the elderly, outwardly contented residents wandering around in white robes, playing croquet, yet no staff member seems willing to tell him where his boss, Harold Pembroke (Harry Groener), is.
As the plot twists and turns, Lockhart is in an automobile accident. Awakening with a broken leg, he discovers he's now a patient, cared for by suavely sinister Dr. Heinrich Volmer (Jason Isaacs), who explains that the spa's miraculous rejuvenation treatment comes from the water.
"Drink!" he's urged. "Drink the water."
Hobbling around the asylum grounds, Lockhart meets Hannah (Mia Goth), a pale, hollow-eyed adolescent who says she's lived there all her life, waiting for her father to arrive.
Commandeering her bicycle to search for a telephone, Lockhart takes Hannah into a tavern in a nearby village whose Bavarian residents display an obvious antagonism to the castle and all it represents.
In addition to an excruciating torture scene – with Lockhart strapped in a dentist's chair, evoking horrifying memories of Laurence Olivier/Dustin Hoffman in "Marathon Man" – and a shocking rape, involving incest, the most malevolent scare comes from the repellent use of slimy, slithering eels.
Working with Justin Haythe (with whom he collaborated on "The Lone Ranger") on the morbidly inventive screenplay, director Gore Verbinski ("Pirates of the Caribbean") channels Martin Scorsese's "Shutter Island" with cinematic nods to Alfred Hitchcock, Stanley Kubrick, Guillermo del Toro and Steven Spielberg.
But this dystopian thriller slogs along for an ominous two-and-a-half hours, saddling viewers with a surly antihero, lunatic villain and ghastly, nightmarish imagery, courtesy of production designer Eve Stewart and cinematographer Bojan Bazelli.
On the Granger Movie Gauge of 1 to 10, "A Cure for Wellness" is a creepy 4. It's grotesque Gothic horror gone awry.