Susan Granger's review of "The Belko Experiment" (Orion Pictures)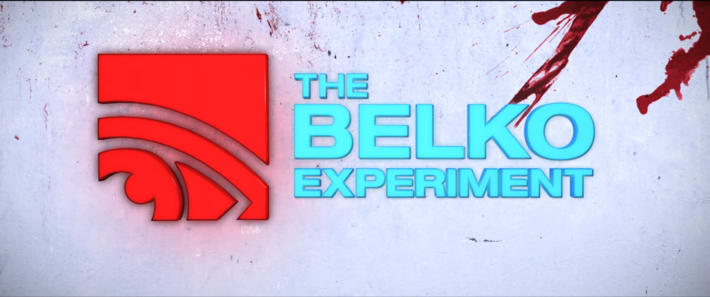 What does it take to survive at work?
That's the question posed by this psychologically provocative horror/thriller, set in a factory in Bogota, Colombia, where 80 of Belko Industries' American employees have been relocated.
One morning – on a day when local personnel have been sent home by heavily armed security guards – there's an ominous announcement on the intercom that they will be participating in a ruthless game and "in eight hours, most of you will be dead."
Understandably alarmed, they quickly discover that all the doors and windows of their high-rise building have been blocked by metal shutters, so there's no escape.
Then they're told to pick several of their co-workers to die – with the warning that failure to comply will result in more of them being killed remotely by a tracker microchip that has already been embedded at the base of each employee's skull "for security reasons," supposedly in case of a hostage situation.
To no one's surprise, a "Lord of the Flies" mentality takes over. Systems middle-manager Mike Milch (John Gallagher Jr.), who is sexually involved with co-worker Leandra (Adria Arjona), urges everyone to work together to try to find a solution.
In contrast, COO Barry Norris (Tony Goldwyn), along with creepy Wendell Dukes (John C.McGinley), opts for sacrificing the weakest and least essential among them as terror ensues.
Written by James Gunn ("Guardians of the Galaxy," "Slither") and directed by Greg McLean ("Wolf Creek," "Rogue"), it suffers from stereotypical characters, a cliché-riddled plot and bleak predictability.
On the Granger Movie Gauge of 1 to 10, "The Belko Experiment" is a relentlessly chaotic 5, filled with violent carnage.