Susan Granger's review of "Queen of the Desert" (IFC Films)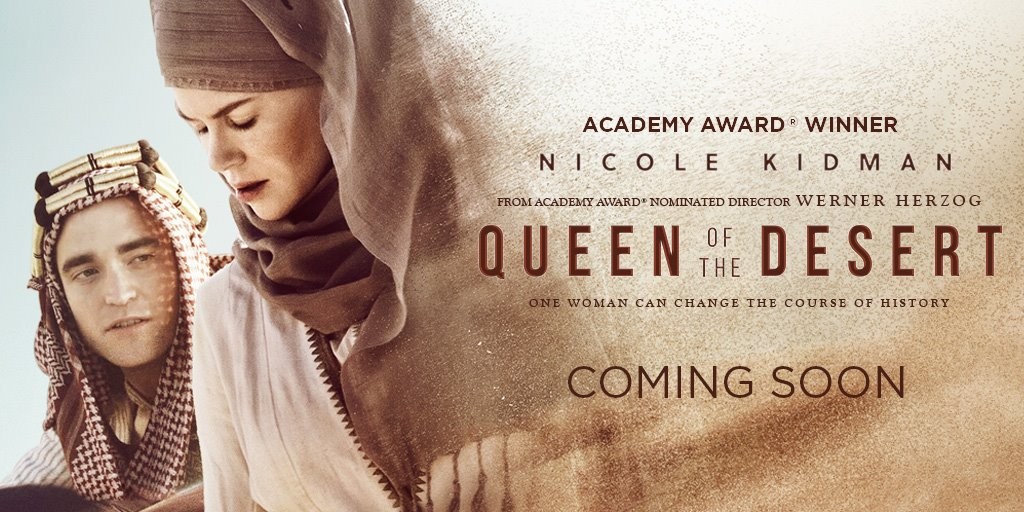 Described as "the female Lawrence of Arabia," Gertrude Lowthian Bell was a fearless explorer, formidable diplomat and resourceful archeologist, propelled by a passion for adventure and intrigue.
Beginning in 1915 with the international conference in Cairo that determined how the former Ottoman Empire was to be divided after World War I, it alludes to the tremendous sociopolitical influence Bell had on the future of the Middle East.
Born in Victorian England to one of Britain's wealthiest families, Gertrude (Nicole Kidman) was the first woman to earn first-degree honors in modern history at Oxford. Bored with stodgy society and chafing against its gender restrictions, she arrived in exotic Tehran in 1892, to visit her uncle, British Ambassador Frank Lascelles.
At the Embassy, she met scholarly, soft-spoken Henry Cadogan (foppish James Franco), who taught her Farsi and with whom she had a tragic romance.
Fiercely intelligent and independent, Bell is determined to trek with a guide (Jay Abdo) and camel caravan through the Syrian desert, learning about the Bedouin culture, noting: "For the first time in my life, I know who I am. My heart belongs to no one now but the desert."
Unfazed, she encounters hostile nomadic warriors and fends off admiring sheiks. At the fabled city of Petra in Jordan, she banters beguilingly with T.E. Lawrence (miscast Robert Pattinson). Meanwhile in Damascus, the unhappily married British Consul General, Charles Doughty-Wylie (Damien Lewis), falls in love with her.
Unfortunately, all of this sounds far more dramatic than it is on the screen. Accompanied by Klaus Badelt's symphonic score, the vast landscapes are magnificently photographed by Peter Zeitlinger.
But writer/director Werner Herzog ("Aguirre," "Fitzcarraldo") never delves into the inherent drama. The screenplay is lethargic and dialogue is archaic.  Nicole Kidman's pale, porcelain beauty is more of a distraction than an enhancement, coupled with her unfortunately inability to exhibit a variety of facial expressions.
On the Granger Movie Gauge of 1 to 10, "Queen of the Desert" is a florid 5. Helmed by Werner Herzog with that heavyweight cast, it should have been so much better.