Susan Granger's review of "The Ghost in the Shell" (Paramount Pictures)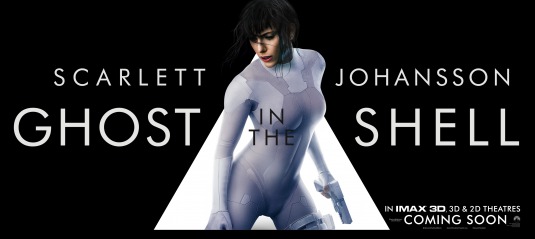 If you're into the latest whiz-bang technology, this dystopian sci-fi thriller is a live-action remake of Mamoru Oshii's 1995 cyberpunk anime, based on Masamune Shirow's popular 1989 manga series.
Its publicity campaign has focused on Scarlett Johansson's appearing to be 'almost' naked, dashing around a futuristic cityscape in a flesh-colored, skin-tight casing; she's a cyborg law-enforcement officer known as the Major. The gimmick is that when she dons this "thermoptic" suit, she is basically invisible.
Major Mira Killian is the first of her kind: a military-designed robot with a human brain. She's an integral part of a counter-cyberterrorist task force, known as Public Service Section 9, operating under Chief Daisuke Aramaki (Takeshi Kitano).
They're pursuing a villain known as Kuze (Michael Carmen Pitt), who has been eliminating Hanka Robotics scientists by hacking into the consciousness of different accomplices to make them commit murder.
Problem is: Kuze's warnings about the company begin to dovetail with glitches in Major's brain that make her more self-aware and increasingly curious about discovering her true identity – which is amplified by the insistence of her creator, Dr. Ouelet (Juliette Binoche), that memory is irrelevant.
Director Rupert Sanders ("Snow White and the Huntsman") pays homage to the original film and many scenes – like a cigarette-smoking surgeon in a sterile lab, a detective with eye implants that look like binoculars, and a fight scene in a shallow pool of water – come directly from the comic-book source.
Obviously, the Major's nude-effect attire demanded the most attention. Textured in a puzzle-like pattern, the eye-catching camouflage suit was created by costume designers Kurt Swanson and Bart Mueller, along with the CGI experts at Peter Jackson's New Zealand-based Weta Workshop.
FYI: Scientists are already working on an ultra-thin invisibility cloak that manipulates particular wavelengths of light in order to blend an object into the background.
Problem is: miscast Scarlett Johansson is never convincing in her struggle to discover her humanity. And the uproar over casting a Caucasian actress in an iconic Japanese story is understandable.
On the Granger Movie Gauge of 1 to 10, "The Ghost in the Shell" is a frenetic 5, favoring style over substance.