Susan Granger's review of "Unforgettable" (Warner Bros.)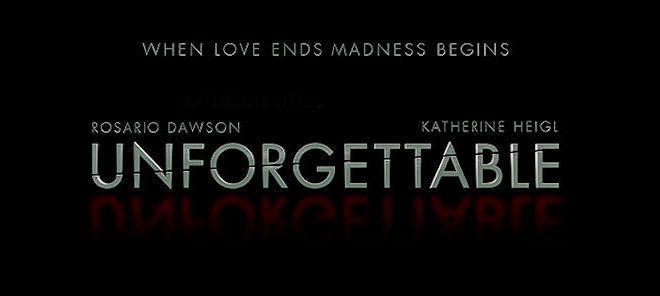 When David Connover (Geoff Stults) takes up with Julia Banks (Rosario Dawson) after his divorce from Tessa (Katherine Heigl), he has no idea about the can of mean-spirited worms he's opening.
As this tepid psycho-sexual thriller begins, battered Julia is being interrogated as the only suspect in the murder of her abusive ex-boyfriend, Michael Vargas (Simon Kassianides), against whom she once got a restraining order.
Skip back six months to when Julia left San Francisco to begin a new life in Foothill, a (fictional) Southern California suburb, with her fiancé David and his young daughter, Lily (Isabella Kai Rice).  A former Wall Street hotshot, hunky David has just opened a boutique microbrewery in his hometown.
But when icy, embittered Tessa – Lily's possessive mother – sees how happy he is with amiable Julia, she's devastated. Her intuitive vulnerability is heightened because she has never been able to satisfy the expectations of her own rigid, perfectionist mother, Helen (Cheryl Ladd).
We're told that Julia doesn't use Facebook, which is bizarre since she was an editor for an online literary publication in San Francisco. But that leaves a portal so Tessa can cyberstalk her, shrewdly creating a fake FB profile and utilizing it to contact Julia's ex, as her devious revenge plot takes shape.
"Everyone's got a weird ex, but this Psycho Barbie is something else," warns Julia's best friend (Whitney Cummings). "You need to come back home with me."
Working from screenwriter Christina Hodson's implausibly convoluted script, longtime producer/first-time director Denise Di Novi never alludes to skin color or class, cleverly casting blond, beautifully Botox'd Katherine Heigl as the sinister, sadistic, sociopathic villain.
On the Granger Movie Gauge of 1 to 10, "Unforgettable" is a flimsy, frustrating 4 – and quite forgettable.