Susan Granger's review of "Once Upon a Time in Venice" (RLJ Entertainment)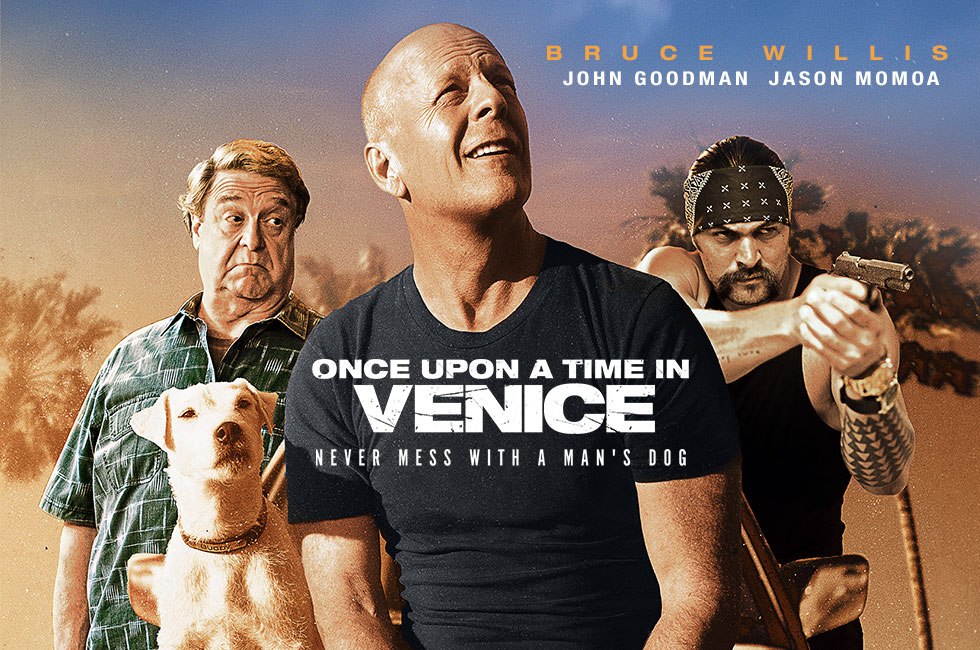 Today's conundrum: Why did Bruce Willis want to make this wannabe action-comedy caper that turns out to be neither? Money is the only answer.
Willis plays Steve Ford, a disgraced former police officer-turned private detective, who works with his bumbling millennial protégé, John (Thomas Middleditch), serving as narrator, in the kooky underworld of the Venice Beach section of Los Angeles, where Steve warns local kids against the dangers of drugs and hookers.
When Steve's beloved Jack Russell Terrier, Buddy, is dognapped by some local thugs, he's determined to retrieve him – with the help of his pal, depressed surf-shop owner Dave Jones (John Goodman), who is going through a nasty divorce.
The evidence leads them to a low-life cocaine-peddler named Spyder (Jason Momoa); Yuri (Ken Davitian), a ruthless Russian loan shark; and "Lew the Jew" Jewison (Adam Goldberg), a real-estate developer who needs Steve's help to track down graffiti artist Salvatore Lopez (Tyga) who has been defacing his buildings with obscene murals.
Hovering around, causing trouble, is Lupe the Bitch (Stephanie Sigman) who fancies the stolen pooch Buddy, much to the chagrin of Steve's sister (Famke Janssen) and niece (Emily Robinson).  Plus there's Kal Penn as a surly convenience store owner.
The highlight of the 'action' is when Steve (or his stunt double) goes for a naked skateboard chase sequence. Yes, that's a sight to see!
Written by siblings Mark and Robb Cullen ("Heist," "Lucky,") and directed with modest film-noir flair by Mark Cullen, it reaches a humiliating low-point when Steve stuffs a revolver between his bare butt cheeks.
On the Granger Movie Gauge of 1 to 10, "Once Upon a Time in Venice" is a frantic 4, fueled by testosterone.