Susan Granger's review of "Despicable Me 3" (Universal Pictures)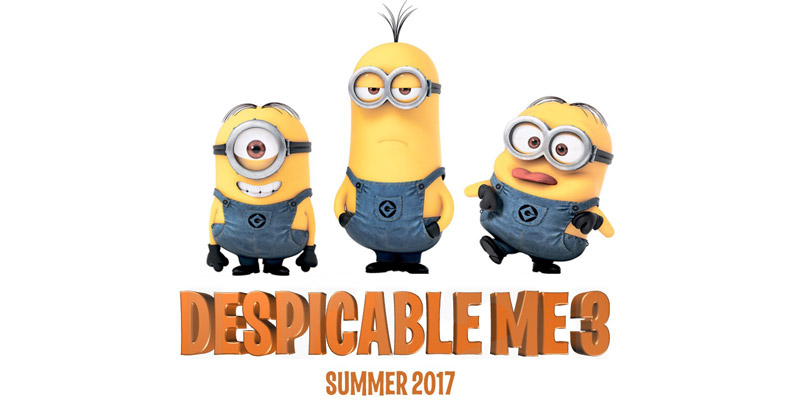 Gru and his mischievous yellow Minions have conquered the Chinese box-office! According to China's tracking company Entgroup, this third installment opened as the biggest animated hit in that country's cinematic history.
The story follows former bad-guy-turned-secret agent Gru (Steve Carell) and his fellow agent wife Lucy Wilde (Kristen Wiig), along with their three adopted daughters – maturing Margo, unicorn-obsessed Agnes and playful Edith – who travel to Freedonia to meets his long-lost, ostentatiously wealthy twin brother, Dru (also voiced by Carell), who wants Gru to return to villany.
Having been unceremoniously fired by the new Anti-Villain League boss (Jenny Slate) and deserted by his sinister Minions, reformed Gru and clumsy Dru take on Balthazar 'Evil' Bratt (Trey Parker).
Bratt is a resentful '80s-obsessed child TV star-turned-diamond thief, who has a sassy robot on-call, a trusty keyboard guitar, a penchant for Rubik's Cube and a fervent desire to destroy Hollywood. Tossing bubble-gum bombs, Bratt endlessly repeats his tagline: "I've been a baaaad boy!"
Too bad that most of this is in the theatrical trailer.
Franchise screenwriters Ken Daurio and Cinco Paul, working with co-directors Kyle Balda and Pierre Coffin (who also voices the babbling, nonsensical Minions), maintain a frantic, if disjointed pace, filled with inoffensive jokes and colorful sight gags.
'Back in 2015, Coffin confirmed that the Minions, clad in goggles and dungarees, are all male, noting, "Seeing how dumb and stupid they often are, I just couldn't imagine the Minions being girls."
FYI: Julie Andrews vocalizes Gru and Dru's rotten mother Marlene, while Trey Parker is better known as the co-creator of TV's "South Park."
On the Granger Movie Gauge of 1 to 10, "Despicable Me 3" is a silly 6, leading audiences to expect more innocuous sequels in the future.